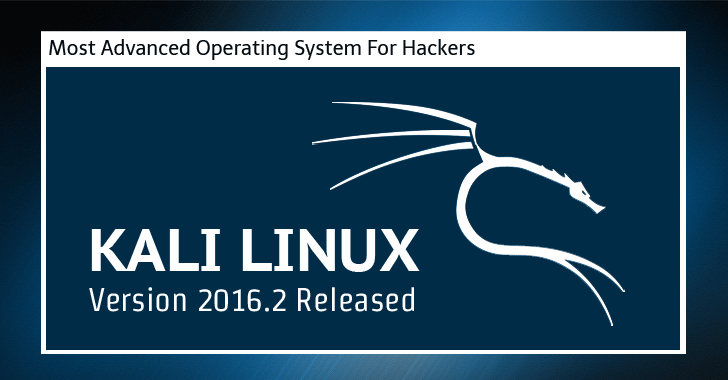 As promised at the Black Hat and Def Con security and hacking conferences, Offensive Security – the creators of Swiss army knife for researchers, penetration testers, and hackers – has finally released the much awaited Kali Linux 2016.2.
Kali Linux is an open-source Debian-based Linux distribution designed to help ethical hackers and security professionals with a wide range of tools for penetration testing, forensics, hacking and reverse engineering together into a single package.
Earlier the Kali Linux distribution was known as
BackTrack
.
Kali Linux 2016.2 is an updated Live ISO image of the popular GNU/Linux distribution that includes the latest software versions and enhancements for those who want to deploy the operating system on new systems.
What's new?
Besides bringing the updated Live ISOs of Kali Linux, the Kali Linux team brings multiple variants of the GNU/Linux distribution with various Desktop Environments, specifically KDE, Xfce, MATE, LXDE, and Enlightenment – all available only for 64-bit platforms.
What's even more exciting is that, from Kali Linux 2016.2 onwards, the team promises to release updated Live ISO images of Kali with new software versions and the latest security patches every week.
Since Kali Linux has been the most advanced and widely used distro for penetration testing and forensics, this weekly update has come up as exciting news for those involved in various hacking and security-related projects.
It's been several months since the last update to the official Kali Linux Live ISOs, and there are a few hundred new or updated packages pushed to the Kali repositories.
This means that the packages incorporated in the previous Kali Linux ISOs need bug fixes and OS improvements, which are implemented in the most recent versions of the Linux distro.
"Since our last release several months ago, there's a few hundred new or updated packages which have been pushed to the Kali reports," the Kali Linux team's announcement reads. "This means that anyone downloading an ISO even 3 months old has somewhat of a long 'apt-get dist-upgrade' ahead of them."
You can download the latest
Kali Linux 2016.2 ISOs
from its official website now. The Kali Linux team has also promised to bring a lot of exciting announcements in the next few weeks, so keep an eye on its announcements for the latest updates.