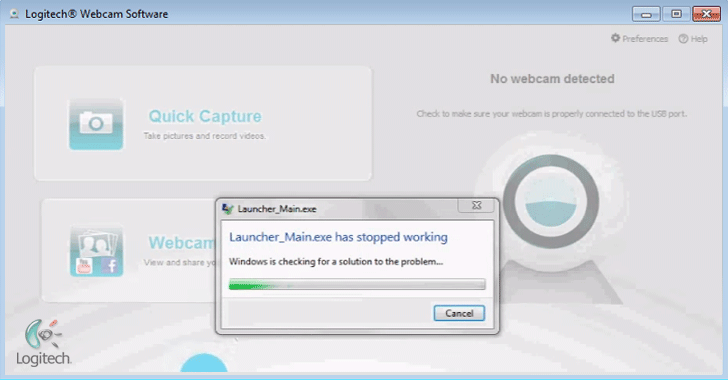 If your webcam has stopped working after installing recently-released Microsoft's big Anniversary Update for
Windows 10
, you are not alone.
With some significant changes to improve Windows experience, Windows 10 Anniversary Update includes the support for webcams that has rendered a number of different webcams inoperable, causing serious issues for not only consumers but also the enterprise.
The problem is that Microsoft added some new ways for applications to access webcams with Microsoft's new Windows Camera Frame Server, preventing webcams from using two particular compression formats—H.264 and MJPEG.
Microsoft decided that the Camera Frame Server should only receive an uncompressed YUY2 encoding stream from the webcam, which is affecting far more devices than Microsoft expected, causing Millions of cameras to crash.
This is the reason why your camera hangs, freezes, or simply not works when you try to do a video calling with your friend over Skype. Brad Sams of Thurrot first
discovered
this issue.
"Since it will take some extra time for the H.264 work to go through this additional layer of testing, and we would prefer not to delay the MJPEG changes [fix], we will ship these two separately. You can expect the MJPEG media type work to reach you first," reads a post in Microsoft's Support Forum from Windows Camera Team member Mike M.
Although Microsoft has planned to fix the issue and roll out an official fix in September, Windows users who do not want to wait for a month for Microsoft's update can use a
workaround suggested
by Rafael Rivera to re-enable the old behavior of webcam and fix the issue.
Here's how to Fix Your Webcam:
The workaround is a registry hack, so if you are comfortable tweaking the registry, make the below changes. The hack is pretty simple; you just need to stick to the following instructions.
Go to the Start Menu, type "regedit" and press Enter. This opens 'The Registry Editor'.
Navigate to "HKEY_LOCAL_MACHINE\SOFTWARE\Microsoft\Windows Media Foundation\Platform" in the left sidebar.
Right-click the "Platform" key and select New → DWORD (32-bit) Value.
Name this value "EnableFrameServerMode" and set the value to "0" by double clicking on it.
These are the steps if you are using a 32-bit version of Windows 10.
If you are using a 64-bit version of Windows 10, you will need to navigate to "
HKEY_LOCAL_MACHINE\SOFTWARE\WOW6432Node\Microsoft\Windows Media Foundation\Platform
" in the left sidebar and follow step 3 and 4 mentioned above.
Now close the registry editor and just re-launch the application in which your webcam was freezing. They should now work normally – no reboot, no sign out required.
When Microsoft actually fixes the issue after a month, just revisit the same location in the registry editor and delete the "
EnableFrameServerMode
" value you added to undo this change.
The hack is simple but follow the above steps correctly because a small mistake in The Registry Editor tool can render your system unstable or even inoperable.