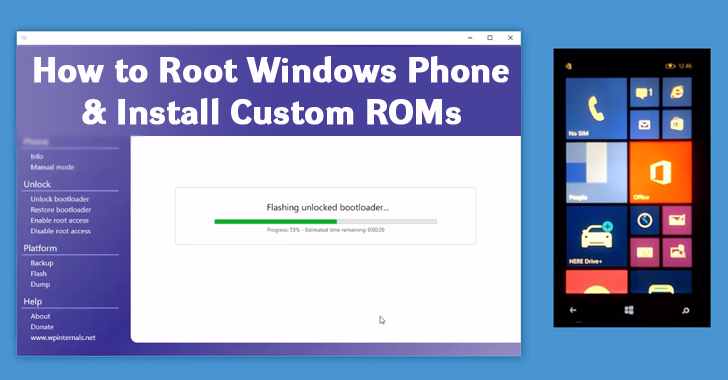 Yes, Now it is possible to unlock a Windows Lumia Phone for Root Access and run custom ROMs.
Both Microsoft as well as Nokia have made Windows Lumia smartphones difficult to break into at a low-level by locking down their bootloaders, but a software hacker, who go by the name HeathCliff, has just proven that it is not impossible.
HeathCliff has released an excellent tool called "Windows Phone Internals" that allows Windows phone owners to unlock their smartphone's bootloaders, gain root access and even create and run custom ROMs.
What's more interesting is the tool supports "most versions of Windows Phone 8.1 and Windows 10 Mobile".
HeathCliff is very well known XDA Developer and one of the Windows Phone legends. On Windows Phone part, HeathCliff is loved mostly for the WP7 Root Tools.
Here's the List of Things Windows Phone Internals can Do
You can unlock the bootloader of the specific Lumia Windows Phone models, and then enable Root Access
You can load your custom apps with higher privileges and without sandboxing in Windows Phone OS.
You can create Backup images of your phone and can also access the file-system in Mass Storage Mode.
You can even install your custom ROMs.
You can also watch the video provided by HeathCliff, showing what the tool is capable of doing.
Models Supported by Windows Phone Internals Tool
Here's the list of Lumia Phones Supported by the tool right now:
Lumia 520, 521 and 525
Lumia 620, 625
Lumia 720
Lumia 820
Lumia 920
Lumia 1020
Lumia 1320
How to Get Started?
Here's the introduction video for you to get started with Windows Phone Internals:
Should You Root Your Phone?
However, I would caution against using this tool to root Windows phone for those who do not understand the underlying architecture of their Windows Phones and Windows 10 Mobiles.
Rooting your phone gives you complete control over the OS, but that power can also be misused if you're not careful.
Heathcliff also states that after a tweak is completed, you should unroot your device to reduce the chance of malware or other bad stuff making their way on.
Using the tool without proper inspection could also result in damaged and unrecoverable data, for which neither The Hacker News nor I will be responsible. So please be careful before rooting your Windows Phone.