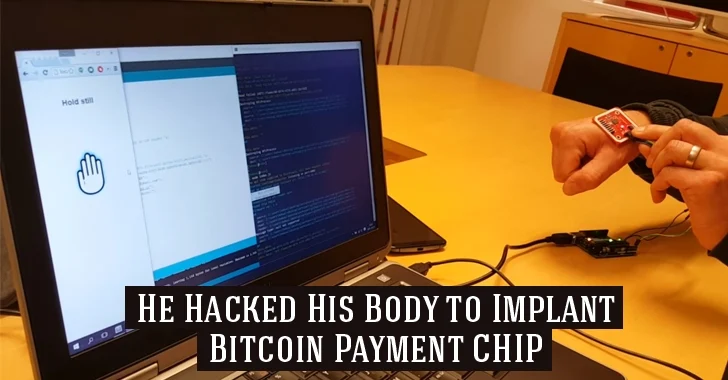 Hackers are now going crazy and trying new ways in Biohacking.
Until now, we have seen a hacker who implanted a small NFC chip in his hand in order to
hack Android smartphones
and bypass almost all security measures.
However, now the level of craziness has gone to a whole new level.
A Swedish hacker has devised a neat trick that makes him able to buy groceries or transfer money between bank accounts by just waving his hand.
Yes, you heard that right.
Patric Lanhed
, a software developer at DigitasLBi, implanted a small NFC (Near Field Communications) chip with the private key to his Bitcoin wallet under his skin.
So How Does the Trick Work?
So, while sending Bitcoin payment from one digital wallet to another, he just has to wave his hands against an NFC chip reader that will scan the data, and a custom software will confirm the authenticity of the key, triggering the money transfer.
A proof-of-concept video demonstration by Patric and his acquaintance Juanjo Tara Ortiz, an engineer at Arduino, shows a successful Bitcoin payment from one wallet to another. The transaction, what the duo claim, is…
The World's First "Bio-Payment" — a way to send and receive money using:
Data stored inside a human body
A custom software app built on top of a Bitcoin wallet's developer API.
Bitcoin-related NFC technology has been around for a while, but this chip implant approach takes the potential of this technology to the next level.
$1 BILLION invested in Bitcoin Firms So Far
Major companies, including American Express (AXP), MasterCard, Bain Capital and the New York Stock Exchange, have invested overall, a record-breaking $1 Billion into Bitcoin-related tech startups.

The Bitcoin technology promises to transform the way we trade stocks, get paid, send money to each other, and much more. It has come up as an effective way to stop fraud.

So, one can see the future of Bitcoin payments using the bio-payment system.
The Future of Bio-Payments
Bitcoin is just the beginning of their research, as the duo believe that they can turn this payment transfer system into a bio-payment terminal system to be used in stores.




So in near future, the custom software developed by the duo will have the capability to allow people to store different types of data, including Bitcoin, on their chips.




They claim the applications besides a bio-payment will include:
Payments
Medical records
ID papers like an embedded Passport
Travel documents
ICE (In Case of Emergency) tags
Data authentication for consumer applications like vehicle entry, home security, computer authorization, and many more
VCard exchange over a phone and lot more applications
So be ready, as the age of Bio-Payments has arrived.