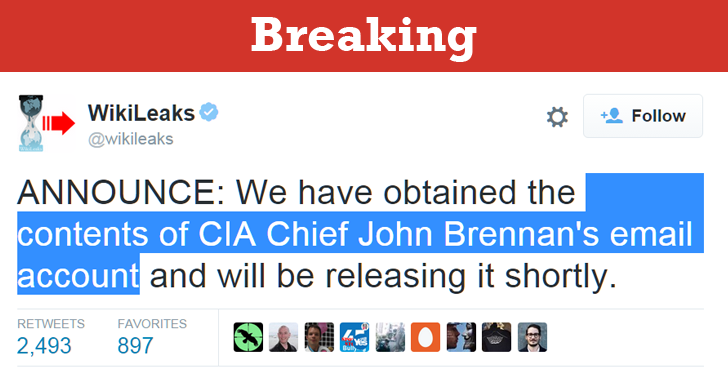 Breaking....
WikiLeaks, The Anti-secrecy and transparency organization, claims to have obtained the contents of CIA Director John Brennan's personal AOL email account.
Also, Julian Assange, founder of
WikiLeaks
, has
promised
to publish them soon on their website.
The teenager also posted a partial Spreadsheet filled with the supposed names, email addresses, phone numbers and Social Security numbers (SSNs) of 2,611 former and current government intelligence officials.
Anonymous Teenage Hacker is motivated by opposition to American foreign policy, particularly in respect to the Israel-Palestine conflict, according to an interview.
The Central Intelligence Agency did not confirm whether the hack happened, but the FBI and Secret Services are currently investigating the case.


UPDATE: WikiLeaks Publishes CIA Director's Hacked Emails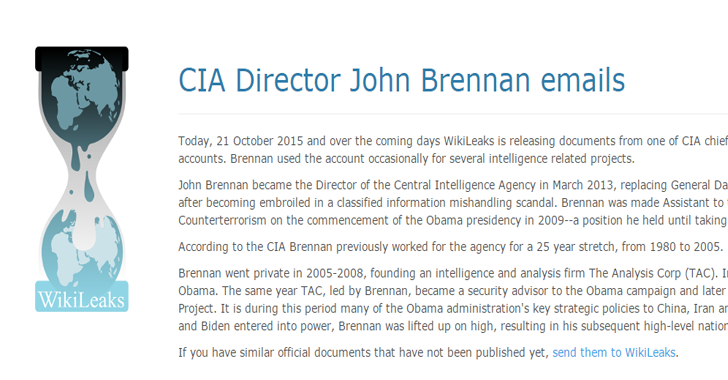 The anti-secrecy group WikiLeaks claims to have
released
a few documents from CIA director John Brennan's private email account – the group calling the release The CIA Files.
According to the organization, Brennan made use of
"the [AOL] account occasionally for several intelligence-related projects,"
and to support the claim, Wikileaks published six documents.
The six documents stolen from an old account belonging to Mr Brennan include:
A 2008 form provided for background investigation during Brennan's confirmation
A draft security clearance application that includes personal information of several federal employees
A 2007 draft on national security challenges
Position papers on Iran and the intelligence community at large
More Documents to Come