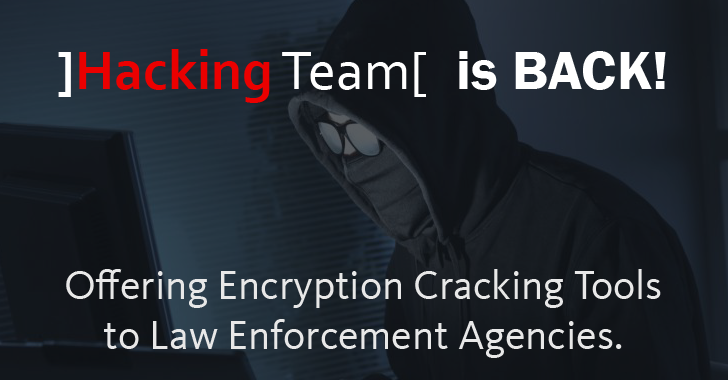 Hacking Team, the infamous Italy-based spyware company that had more than
400 GB of its confidential information
stolen earlier this year, has resumed its operations and started pitching new hacking tools to help US law enforcement gets around their
encryption issues
.
Yes, Hacking Team is back with a new set of Encryption Cracking Tools for government agencies as well as other customers to break encrypted communications.
The announcement came in an email pitch sent to existing and potential new customers on October 19 when Hacking Team CEO David Vincenzetti confirmed that Hacking Team is now "finalizing [its] brand new and totally unprecedented cyber investigation solutions."
The e-mail is not made public, but Motherboard has been able to
obtain
a copy of it that states:
"Most [government agencies] in the United States and abroad will become 'blind,' they will 'go dark,' they will simply be unable to fight vicious phenomena such as terrorism," wrote Vincenzetti. "Only the private companies can help here; we are one of them."
"It is crystal clear that the present American administration does not have the stomach to oppose the American IT conglomerates and to approve unpopularly, yet totally necessary, regulations," He added.
Game Changers
The brand new cyber investigation solutions here, of which Vincenzetti is talking about, will be "Game Changers."
The announcement came roughly 4 months after a mysterious hacker or group of hackers hacked into Hacking Team's servers, leaking more than 400 gigabytes of internal data, including:
Internal emails
Hacking tools
Surveillance tools
Source code for Spyware suite, called Remote Control System (RCS)
A spreadsheet listing every government client with date of purchase and amount paid
Remote Control System Version 10 (RCS 10)
Since then, Hacking Team has reportedly been working on launching a new revamped 10th edition of its proprietary
Remote Control System
, RCS 10.
Hacking Team is known for its Remote Control System (RCS) spyware, also known as Galileo, which is loaded with a number of zero-day exploits that have the ability to monitor the computers of its targets remotely.
However, it's still unclear when the company will actually release RCS 10. Also, it is all set to be seen as to which law enforcement agencies will take the Hacking Team offer, given its recent security breach.