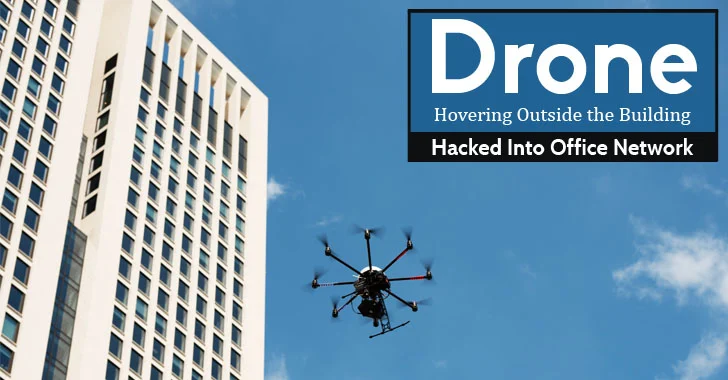 Imagine you are sitting in your office and working on something confidential. Once you are done, you send a command to print that document.
But, What if...
...the whole confidential document send to a hacker attacking from the air?
Sounds pity but may be your Boss fires you immediately if that confidential data is leaked or misused.
This is no more an imagination now, as a group of researchers has done exactly the same.
Researchers from Singapore have devised a unique set up consisting of a Drone that carries a smartphone running two custom apps that are capable of intercepting wireless printer transmissions, even from outside an office building.
In short, hackers can gain access to your corporate network by using a smartphone-equipped drone to hack your printer.
The project was developed by the researchers at
iTrust
, a research center at the Singapore University of Technology and Design.
They developed two applications:
Cybersecurity Patrol – To detect open WiFi printers and automatically notify the organisation's IT department.
Another app (unknown name) – Once an open wireless printer is detected, this app uses the smartphone to establish a fake access point that mimics the printer and tricks PCs to send documents to it instead of the real printer.
According to researchers, it's quite difficult for one to get to several floors with their devices to hack into networks, but a Drone can do it easily.
"This is the main point of the research, closing the physical gap with [a] drone in order to launch the attack or scan easily all the organization [for vulnerable devices]," Yuval Elovici, the head of iTrust, told Wired.
Video Demonstration
You can watch the video given below, which shows the attack in work:
The researchers used a consumer DJI drone and a Samsung smartphone that they rooted to install Debian Linux OS and the apps mentioned above written in Python that emulate an
HP6830 wireless printer
.
Besides Drone, the group also devised a robotic vacuum cleaner that can also scan for vulnerable networks while it cleans an office's floors.
The project's aim is to aware businesses and organizations that their innocent looking printers and vacuum cleaners can be easily hacked and hijacked by hackers trying to get into their corporate networks.
Now, you could imagine the world where everything from vacuum cleaners to drones... surrounds you is a robot hacker (
hackbots
), and you need to secure your confidential data from them, which is quite difficult, but you don't have any other choices.
Read more::