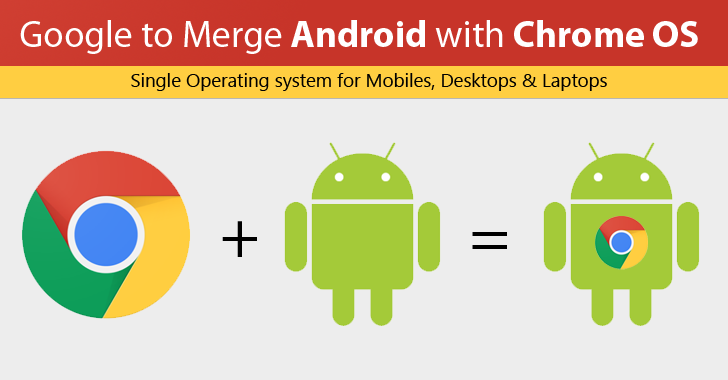 Google is planning to merge its
Chrome OS
with
Android
operating system and roll out a single operating system by 2017.
New Android OS Optimized for Laptops:
Yes, a Single Operating system for Mobile devices, desktops, laptops and notebooks, just what Microsoft is offering to its users with
Windows 10
.
Chrome OS is a lightweight operating system based on the Linux kernel and designed by Google to power its Chromebook Laptops and Desktops.
Here's the deal:
According to a recent report published by the Wall Street Journal, Google has been working for two years to merge Chrome OS and Android, and you can expect to see an early version of the 'single OS for all' as soon as next year at Google I/O event.
Is Google Killing Chrome OS?
NO, Google isn't Killing Chrome OS.
Google seems to still have some dual-strategy in mind, as Hiroshi Lockheimer, the Senior VP of Chrome OS, Chromecast and Android, confirmed on twitter...
Chrome OS will remain as an open source operating system that other companies can use to integrate in their desktops and laptops, and Google engineers will continue maintaining the operating system.
"There's a ton of momentum for Chromebooks and we are very committed to Chrome OS. I just bought two for my kids for schoolwork!" — Hiroshi Lockheimer (@lockheimer) tweeted.
The Integration of Chrome OS into Android is not unexpected… speculation has existed for years.
Ever since current Google CEO Sundar Pichai became the incharge of both Android and Chrome OS in March, 2013, there has been a lot of speculation about the merging of the two operating systems.
This move to merge both the operating system marks an effort at Google to reduce the number of independent platforms the company has to maintain.
So YES, Chrome OS and Android are merging – and YES, Chrome OS will still work independently of Android.
Stay tuned to our Facebook Page for latest information.