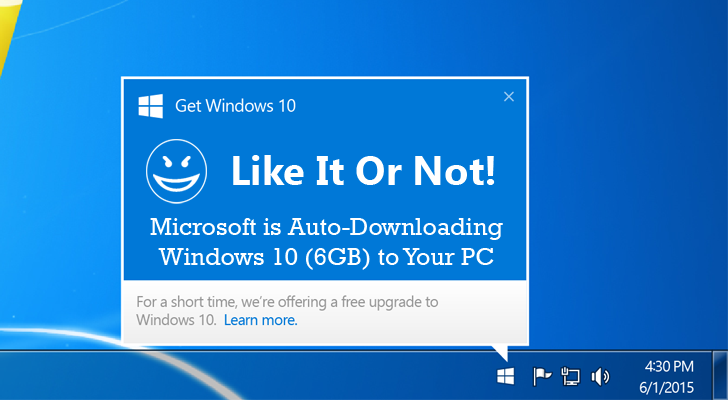 Microsoft wholeheartedly wants you to upgrade to Windows 10. So much that even if you have not opted-in for Windows 10 upgrade, you will get it the other way.
Surprised?
If you have Windows Update enabled on your PCs running Windows 7 or Windows 8.1, you'll notice a large file — between 3.5GB and 6GB — mysteriously been downloaded to your computer in the background.
The huge file is actually linked to Windows 10 installation that Microsoft is reportedly downloading on Windows 7 and Windows 8.1 computers even if users have not opted into the upgrade.
The news comes days after it was disclosed that Microsoft is installing
Windows 10's data collecting and user behavior tracking features
onto Windows 7 and 8.1 machines.
With this latest automatic Windows 10 installation, Microsoft is not only consuming your storage space but also
using your Internet bandwidth
for unrequested files, as the Windows 10 installer downloads up to 6 gigabytes, depending on which Windows version you are using.
According to the latest report published by the
Inquirer
, a number of users running Windows 7 or 8.1 complained that a large folder called '
$Windows.~BT
' has been dropped in their system that tries to install Windows 10 every time they boot up their PCs.
Here's the Kicker:
Microsoft, which released its newest Windows 10 operating system earlier this summer, admitted that it was downloading the unwanted files on users' computers.
The Redmond technology firm said in a statement:
"For individuals who have chosen to receive automatic updates through Windows Update, we help upgradable devices get ready for Windows 10 by downloading the files they'll need if they decide to upgrade."
Now, this is insane.
Microsoft mentioned many times that it plans to deploy Windows 10 on over 1 Billion devices worldwide, but the upgrading users' computers even without their awareness is a bad practice.
Moreover, the practice is problematic for users with slow or metered Internet connections.
Check If Microsoft is Downloading Windows 10 without Your Awareness:
Open and Check the drive Windows is installed on.
Look for the folder $Windows.~BT (it is hidden folder so enable the option to view hidden files)
If exists, Windows installation files have already been downloaded without your permission
Also Read: