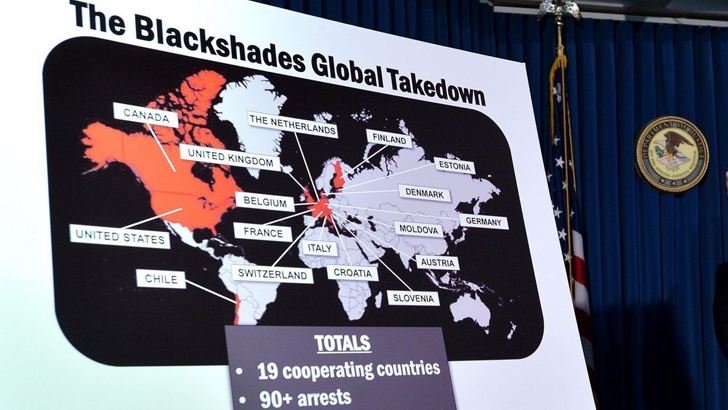 A Swedish man who was the
mastermind behind the
$40 BlackShades Remote Access Tool (RAT)
that infected over half a million systems around the world was sentenced to almost five years in a U.S. prison on Tuesday.
Alex Yücel, 25, owned and operated an organization called "BlackShades" that sold a sophisticated and notorious form of software, called RAT, to several thousands of hackers and other people in more than 100 countries for prices ranging from $40 to $50.
BlackShades malware was designed to capture keystrokes, steal usernames and passwords for victims' email and Web services, FTP clients, instant messaging applications, and lots more.
In the worst case, the malicious software even allowed hackers to take remote control of victim's computer and webcam to pilfer photos or videos without the knowledge of the computer owner.
Yucel (a.k.a. "
marjinz
") was sentenced to
four and three-quarter years in prison
by U.S. District Judge Kevin Castel after
pleading guilty
in February in a New York federal court, according to the U.S. Department of Justice.
The accused asked the judge for leniency in imposing sentence and said he regret marketing the sophisticated malware to hackers. "I deeply regret starting this [BlackShades] whole project, which obviously went out of control," he said.
However, Castel sentenced him to 57 months behind bars along with a penalty of $200,000, saying that "the message must go forth that this is a serious crime."
"We rely on our computers as an extension of how we live our lives," Castel said in a press release. "This is spreading misery to the lives of thousands [of online people]. That's what this is."
Yucel has already served approximately 13 months in New York prison and roughly one month in Moldova custody, where he was held after capture.
The accused developed the RAT with Michael Hogue, an Arizona US resident who already pleaded guilty for the creation of BlackShades malware and agreed to cooperate with U.S. authorities as part of a plea deal. Hogue is scheduled to be sentenced on July 24 this year.
In mid-May last year, the law enforcement authorities in the United States and Europe started
large-scale International raids
against people suspected of developing, selling and buying the notorious BlackShades RAT.
The raids took place in over 100 countries worldwide, and the authorities seized 1,900 command and control (CnC) domains and arrested more than 100 people around the world involved in the illegal activities related to BlackShades malware.
BlackShades tool was actually developed by an IT surveillance and security-based company, as a tool for parents to monitor their children's activities and for finding the cheating partners in the relationship. However, as usual the cyber criminals have made it a favorite tool to carry out illicit activities.