Last week, I have to communicate with my friend overseas in China. We both were aware that our email communications were being monitored. So, we both were forced to install and use a fully-fledged encrypted email system. Although it appeared to be very secure, it was quite cumbersome to handle.
If you are ever faced with the same situation, I am here to introduce you a very simple and easy-to-use approach to encrypt your files and send them to the person you want to communicate with.
Here's the Kicker:
You don't even need to install any software or sign up to any website in order to use the file encryption service.
So, what do I have today in my box?
"
Otr.to
" — an open-source peer-to-peer browser-based messaging application that offers secure communication by making use of "Off-the-Record" (OTR) Messaging, a cryptographic protocol for encrypting instant messaging applications.
We first introduced you Otr.to two months ago. At that time, it included two services:
Secure Peer-to-Peer Chat
Self Destructing Message
However, the developers have added a new feature called
Secure File Sharing
, that helps users to share files encrypted with AES256 algorithm with anyone they want to communicate.
Secure File Sharing feature "
using Javascript with AES256 algorithm. Secret Key (password) will never transmitted to the server and the server will store only encrypted data
" website mentioned.
HOW TO USE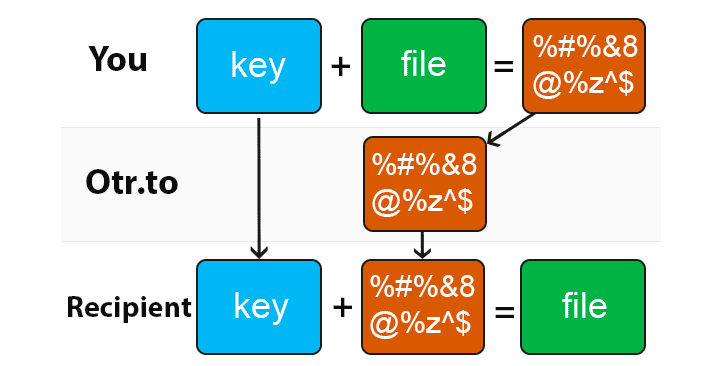 In order to get started with Otr.to's Secure File Sharing, you don't need to register an account or install any application on your desktop. All you need to do is, follow some simple steps given below:
Open any web browser from any platform
Visit https://Otr.to website and go to Secure File Sharing option
Upload a file and get a link to it
Share that link and encrypted password with your friend you want to communicate
When our friend will download the file once, it will automatically self-destruct.
Otr.to is absolutely free and anonymous, which means it doesn't reveal anybody's identity to public. Also, Otr.to doesn't save the keys (password) on its server, as everything it stores on the server is in encrypted form only.
This is something we really need in today's fast life. Otr.to could prove to be a great tool for a variety of people, including journalists, businesses and whistle blowers who want to keep their communications instant, private and secure, as it's not complex like other file and messages encryption software available in the market.