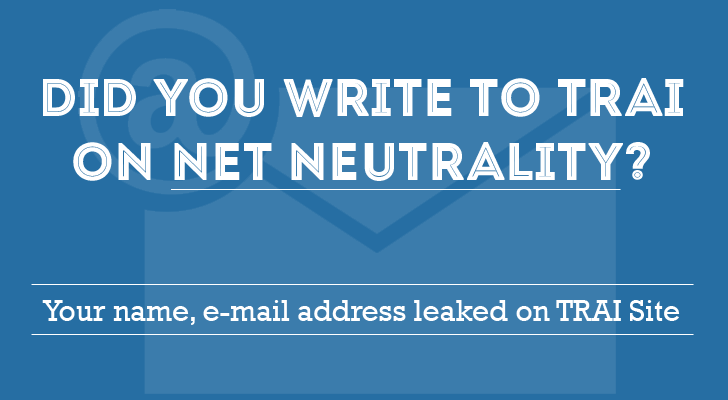 The official website of the
Telecom Regulatory Authority of India (TRAI)
has been allegedly hacked just hours after the site
exposed more than 1 Million email addresses
of users who spoke in support of Net Neutrality.
A hackers collective, calls itself
AnonOpsIndia
, has claimed responsibility for the distributed denial of service
(DDoS) attack against the TRAI
official website and bringing the site down.
Few hours ago, a Twitter account linked to AnonOpsIndia tweeted about the took down of the trai.gov.in website through DDoS attack.
Over a month ago, TRAI released a consultation paper with 20 questions to be answered by citizens of India via an e-mail by April 24, in order to hear their opinion on Net Neutrality.
TRAI was planning to allow telecom operators like Vodafone and Airtel to block websites and applications just to extort more money from businesses as well as consumers, which is nothing but an extreme violation of Net Neutrality.
However, when every Internet user were busy to virtual battle for the SaveTheInternet campaign in support of Net Neutrality…
..
.TRAI leaked the email addresses
[
PDF
] of all the users, earlier today, who sent their responses for Net Neutrality issue to the TRAI, which would be a jackpot for both spammers as well as hackers.
Not just email addresses, TRAI also
published
respective responses of people. The regulatory divided the responses under three categories namely —
Comments from service providers
Comments from service providers associations
Comments from other stakeholders.
In a series of tweets, the group said on their motives to fight for the freedom of Internet in India.
Here are some of their tweets:
"Host is down" all over my terminal. Thank you! Boom Boom #TRAI https://trai.gov.in Fuck you TRAI!
HaHa what good is #TRAI if they can't manage their own fucking servers. Useless.
We are a just bunch of kids trolling "brilliant" minds at #TRAI who have no clue how to handle such situation. Sorry India, you deserve better.
Get Ready for Spam and Phishing emails:
The took down occurred just hours after the TRAI revealed the names and email addresses of more than 1 Million users who had sent their views on Net Neutrality, making all the respondents' email IDs potentially available to spammers.
So if you were one of those who sent an email to the TRAI any time in last month may expect flood of spam emails from loan companies, credit card companies, marketing companies, hackers, phishers and many more.
Meanwhile, the TRAI officials denied any hacking claims and said that the official TRAI website was down "due to some technical glitches."