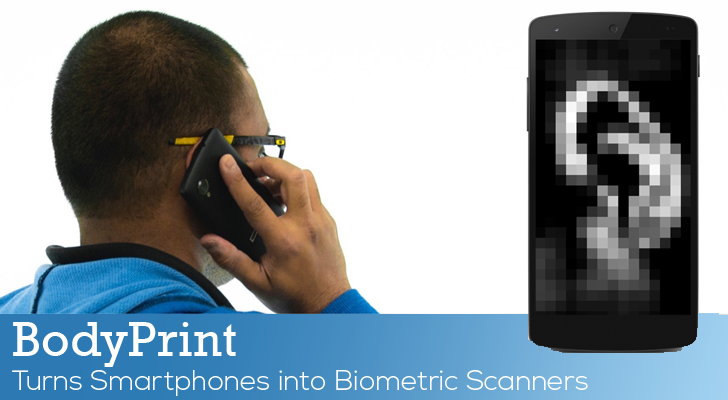 Yahoo! don't want you to every time type a PIN or swipe your phone or scan your thumbprint in order to unlock your smartphone. Instead, it only wants you to place your smartphone device on your ear in order to do that.
A new concept from Yahoo's Research Labs is out that doesn't focus on old fingerprint biometric scanners that are major form of biometric security on today's smartphones, rather focuses on an idea of Bodyprint as the futuristic biometric security.
A team of researchers from the Internet giant has developed a new biometric system called "Bodyprint," which is a much affordable alternative to fingerprint scanners for mobile phones.
What does Bodyprint scan?
Bodyprint, built by researchers Christian Holz, Senaka Buthpitiya, and Marius Knaust, is designed to utilize different body parts as biometric sensors for different cases, depending on how the users are using their phones.
As mentioned above,
Bodyprint
can recognize you from your ears, but it can also identify you from…
Your palm
The knuckles of a fist bump
Set of five fingers around the edge of the mobile screen when tightly holding the device
So now, you do not want to wait for giving an authentication by swiping the screen or scanning for fingerprints or typing PIN in order to answer the calls.
Just put your smartphone on your ear and let touchscreen sensor scans the shape of your ear, That is it.
If your ear prints match, the call will automatically be answered.
You can also use any of the above body divisions to lock your important documents and keep them safe from intruders.
The difference between Fingerprint system and Yahoo!'s Bodyprint system is no larger:
Instead of finger, Bodyprint would scan the shape of your ear
Instead of a fingerprint sensor, Bodyprint would use the Capacitive touchscreen displays your phone already has built-in.
Yes, it does not need any extra hardware for enrollment except a Capacitive Touchscreen.
"Unlocking your smartphone is something you do 150 times per day," said Christian Holz. "You want to make unlocking [your phone] convenient but also secure. That's why fingerprint scanners are so successful."
However, other body parts can unlock your mobile phones in a fast and secure manner, he added.
When compared to relatively expensive fingerprint sensors that have been deployed by major companies in their mobile phones, this new technology by Yahoo! is very much affordable that it could even be used on any cheap phone with a capacitive touchscreen.
However, displays have lower input resolution compared to other specialized sensors available in the market. Therefore, this biometric system requires you to use larger parts of your body.
Yahoo's researchers are working to make this new concept a Reality:
Bodyprint was demonstrated at the 2015 Computer-Human Interaction Conference (CHI) in Seoul, South Korea this week. The technology was tested on 12 different people, and it accurately identified all the bodyprints and their owners 99.98% of the time.
However, researchers of Yahoo! plan to improve the recognition algorithms in Bodyprint and conduct their test on a wider scale before they deploy the Bodyprint biometric systems in commercial devices in near future.