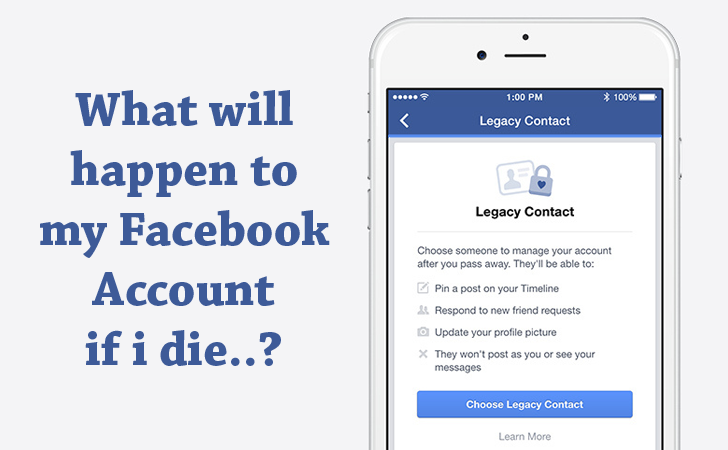 When I Die, I'd like someone to keep updating my Facebook Status, just to Freak people out, because who knew I'd have WiFi signal up there. Jokes apart, Facebook has fulfilled my this wish as well.
The social networking giant is giving its users control over what happens to their Facebook accounts when they die.
Until now, Facebook allowed people to turn the profiles of their loved one into "memorialized" accounts after Facebook verifies that person has died, meaning the account could be viewed but not be managed or edited. But Facebook is now adding a new option that users can select prior to their death: 'Legacy Contact'.
"Until now, when someone passed away, we offered a basic memorialized account which was viewable, but could not be managed by anyone," the Facebook team wrote in a blog post. "By talking to people who have experienced loss, we realized there is more we can do to support those who are grieving and those who want a say in what happens to their account after death."
The social network announced this new feature Thursday that allows Facebook users to designate a specific friend as users' Facebook Legacy Contact who will be allowed to access their account and pin a post on their Timeline after they die.
WHAT YOUR FACEBOOK LEGACY CONTACT CAN DO ?
Your Facebook Legacy Contact won't be able to log in as you or read your private messages, but the contact will be able to do the followings:
Pin a post to display at the top of your memorialized Timeline (to share a final message or notification about a memorial service)
Update your Profile Picture and Cover Photo
Respond to new Friend Requests
Download an archive of your photos, posts, and profile information that you shared on Facebook
HOW TO ACTIVATE 'LEGACY CONTACT' FEATURE ?
In order to choose your Facebook Legacy Contact, follow the following steps:
Open 'Settings'
Choose 'Security'
Select "legacy contact" at the bottom of the page.
Submit the name of your specific Facebook friend who will be able to control certain aspects of your page after you die.
Choose the options you want your Facebook Legacy Contact to have.
Finally, the system will offer an option to send a message to that person, letting them know about their important new tasks.
Alternatively, users can also let Facebook know if they'd prefer to have their account deleted after they pass away.
Facebook is rolling out these new changes in the US first, but plans to expand the changes to more regions.