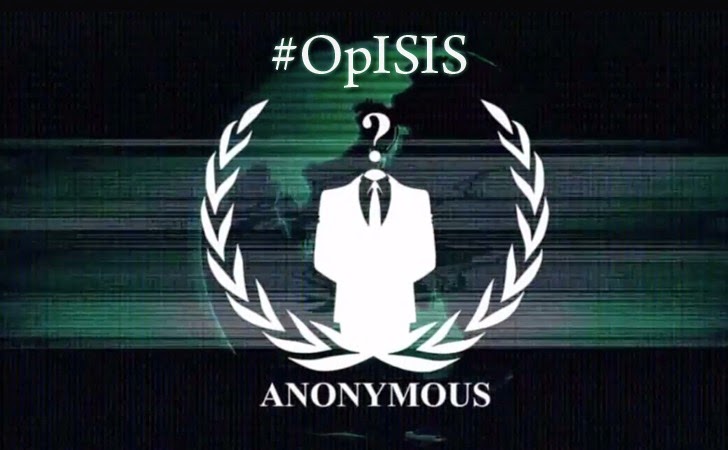 The hacktivist group
Anonymous
has launched a massive cyber attack against the Islamic State of Iraq and Syria (ISIS) — the radical Islamic terrorist group who were
responsible for the terrorist attack against the Paris offices of satirical magazine Charlie Hebdo.
With huge social media presence, ISIS is the most active terror group on Facebook, Twitter, YouTube and Instagram accounts. But unluckily, over dozens of Facebook and Twitter accounts linked to ISIS has recently been taken by the Anonymous group.
In a video appeared on Youtube,
Anonymous group
and
RedCult
announced the operation
#OpISIS
and claimed to have carried out cyber attack against hundreds of Twitter and Facebook accounts used by ISIS for its own propaganda and to recruit new members.
According to the video, Operation
#OpISIS
is coordinated by
"Muslims, Christians, Jews"
alike and a masked individual discusses the aim of the campaign.
They are "hackers, crackers, Hacktivist, phishers, agents, spies, or just the guy next door… students, administrators, workers, clerks, unemployed, rich, poor." They are also "young, or old, gay or straight… from all races, countries, religions, and ethnicity. United as one, divided by zero," video explains.
A list of more than hundred
Twitter and Facebook accounts
suspected to belong to Islamic militants has been released by Anonymous. Twitter has already suspended more than
1500 ISIS accounts
since the group released the first list in June, 2014 and dozens of militant recruiting websites were knocked offline using collective
DDoS Attack
.
Thousands of Twitter accounts associated with terrorist group Islamic State (ISIS) are still active and spreading jihadist propaganda despite a campaign by the hacktivist collective Anonymous to take them down.
According to Anonymous, it's just the beginning of their operation and warned ISIS that there will be "more to come."
We will hunt you, take down your sites, accounts, emails, and expose you…

From now on, no safe place for you online…

You will be treated like a virus, and we are the cure…

We own the internet…

We are Anonymous; we are Legion; we do not forgive, we do not forget, Expect us.
However, ISIS supporters are circulating a
new social media guide
with instructions for acquiring accounts undetected.
In June, Hacktivist collective Anonymous launched a campaign to take down social media accounts and websites associated with ISIS terrorists as a response to the recent Charlie Hebdo attacks under operation #OpCharlieHebdo.
Anonymous hackers also threatened to target Saudi Arabia and related nations for funding and supporting ISIS group. In a previous note they explained, "We are unable to target ISIS because they predominantly fight on the ground. But we can go after the people or states who fund them."