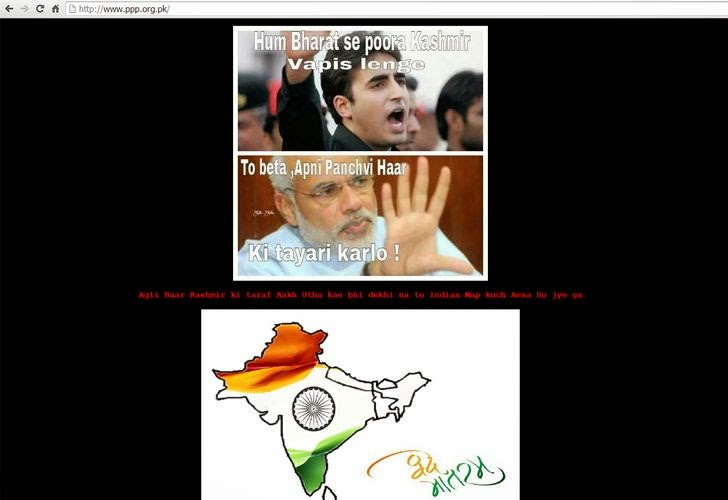 On Tuesday, Indian and Pakistani army forces continued to exchange fire along the Line of Control (LoC) in Jammu and Kashmir, which was started when Pakistan's military fired machine guns and mortars at about 60 Indian army posts during last week.
Tensions between the two countries have intensified since Bilawal Bhutto Zardari, the only son of former Pakistani President Asif Ali Zardari and former Prime Minister Benazir Bhutto, made a statement that his Pakistan People's Party (PPP) would take back entire Kashmir from India. However, the Indian political party described his statement as "childish" and "irresponsible."
Different reactions came from different people out there from India for the chairman of Pakistan People's Party and Central Executive Committee Bilawal Bhutto, but Hackers have their own way of expressing their part.
Here Bilawal Bhutto said that he would not leave an inch of Kashmir with India, and there an Indian Hacker defaced the Official Website of Pakistan People's Party (PPP).
Just few minutes before, the official
website of PPP
has been defaced by the Indian hacker who go by the name Black Dragon, as shown. The homepage of the website has been replaced with the defacement page showing Indian Tricolour Flag with the Indian National Anthem as the background music.
The defacement message on the page reads, "Hello Mr. Bilawal Bhutto !!! To Citizens of Pakistan, Pakistan's Army, Pakistan Peoples Party and Specially Mr. Bilawal Bhutto . Without any Violence Let Me tell you that Pakistan will never Get Kashmir. This is the Truth. You Have to Accept it :)"
"So Mr. Bhutto You Want Kashmir ???? Huh xD "Laavange Laavange, Kashmir, Poora Kashmir !!!" Bitch Please. Abae Phalae Pakistan ko to Sambhalnae Layak Ho ja Bachhey xD :v" Black Dragon added.
At the time of writing the website is still defaced and
defacement mirror
is also published. Hacker told
The Hacker News
, this would be quite an interesting and non-violence reply from him to the political parties like PPP which deliver such controversial statements that create tensions between the two nations.
UPDATE
Yesterday in a Tweet,
Bilawal Bhutto attacked both the Indian government and Prime Minister Narendra Modi for LoC violations.
"Another attack on LOC. seems India adopting Israle model vs Pakistan. Modi must realize we can retaliate unlike his victims from Gujarat." he tweeted.
Now he is again trending on Twitter and
Facebook
with hashtag
#YoBilawalSoDumb
for his incorrect spelling of Israel in the tweet.
United Nation reportedly told Pakistan that the issue needed to be resolved diplomatically.