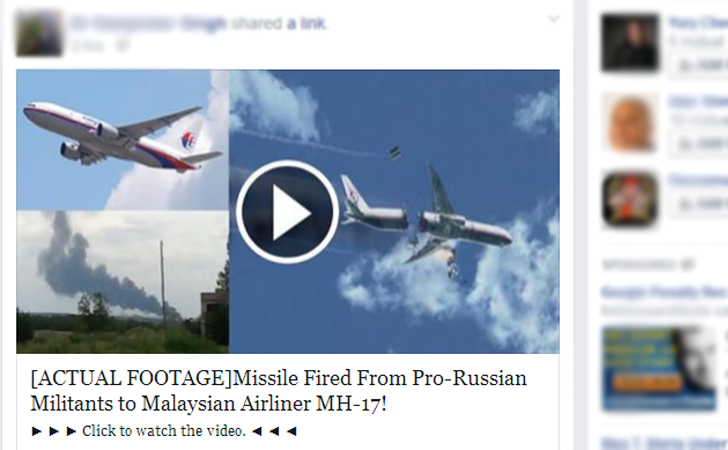 A distasteful trend among the cyber crooks have began these days that they left no occasion, either good or bad, to snatch users' financial information in order to make money as well as spread malware to victimize users.
The tragedy of the crashed Malaysia Airlines flight MH17 is no exception for the criminal minds. They are exploiting the disaster that took place last week in the disputed territory.
All related to
Malaysian Airline Flight MH17
, a Boeing 777 aircraft carrying 283 passengers and 15 crew members, that was shot down over eastern Ukraine on July 17 by a ground-to-air missile. So far, its unclear that who is behind the tragic incident, while Ukraine and the insurgents blamed each other.
Within just a week, at least six bogus Facebook pages that popped up the names of the Boeing 777 victims. According to the Australia's Sydney Morning Herald, three of the fraudulent pages were created in the names of children who were on the plane and died.
The bogus Facebook pages were came out to be click fraudsters, in which the site visitors are served a link to a phony website containing detailed information about the MH17 plane crash. Once clicked, users are then hit with a series of pop-up ads for online gambling sites and other shady services. The pages have since been shut down by Facebook , but this doesn't stop scammers.
I too caught a fake video circulating on Facebook with a fake message that promises to provide a real footage of the missile bringing down the aircraft. It baited people to click on another website with a link purporting to show footage of the MH17 disaster.
'Video Camera Caught the moment plane MH17 Crash over Ukraine.Watch here the video of Crash,' the link read.
As other click fraudsters, when I clicked on the video purporting to provide access to entire footage of the tragic incident, it prompted me to share it with my other Facebook friends in order to play the video, so that the bogus video could spread to other users and so on.
Obviously, I didn't chose that, but even if you do or not , in both cases the site will redirect users to another domain that will prompt users to download a video player (windows executable file) in order to play the video successfully.
People who desires to watch the MH17 Flight's shot down video, it will lead users downloading malware into their systems or potentially unwanted applications (PUPs), similar to what we have seen in many other
spam campaigns
of the types.
This is neither the first nor will be the last attempt of cyber criminals to leverage the tragedy of
MH17 Malaysian airliner
. Last week, cyber crooks used Twitter platform to widely spread short links that directed victims to the web pages known to have been linked with a variant of Zeus Trojan and the Sality malware as well, in order to steal financial information of the victims and to infect their systems with the malwares.
We strictly recommend you to do not trust such videos rather follow various reputed news websites in order to get legitimate information about the incidents. Stay Safe!