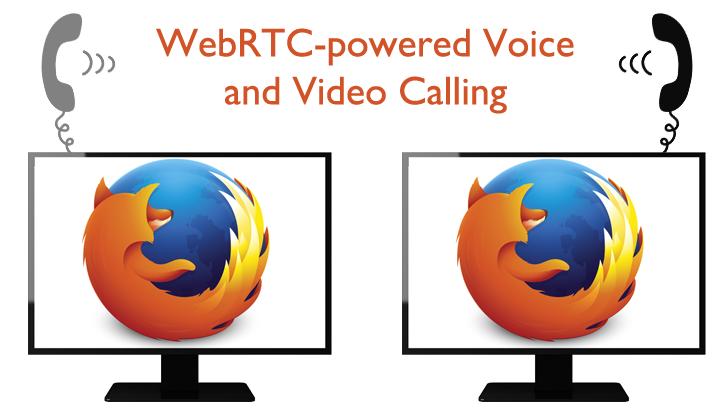 Mozilla is planning to provide a new feature that will allow free audio and video calls between its
Firefox web browser
, thereby ending the need of any third-party client service or plugin.
Mozilla will soon release a new experimental version of Firefox Nightly, which will include an open source and Peer-to-peer communication protocol called WebRTC that enables Real-Time Communications (RTC) capabilities between two web browsers via simple Javascript APIs.
NO PLUGINS REQUIRED
WebRTC is not a web browser plugin, and its components run in the browser sandbox. Its components do not require separate installation or any separate process to run and it will receive its updates along with the web browser updates.
"
No plugins, no downloads. If you have a browser, a camera and a mic, you'll be able to make audio and video calls to anyone else with an enabled browser
." reads the
blog post
and when the camera or microphone are running, this is clearly shown by the Firefox user interface.
There are many services including Skype, Viber and iMessage providing VoIP communications but "What if Mozilla could help tear down these walls? What if the browser, with near universal adoption, could become keystone of an open, interoperable communications system?," the blog post asked.
SECURITY AND ENCRYPTION
In a post-Snowden world,
encryption
is mandatory to create a major hurdle in the spying activities that the US spy agencies have undertaken across the world. WebRTC implementations use two secure protocols:
Datagram Transport Layer Security (DTLS), which is designed to prevent communication from eavesdropping, tampering, or message forgery.
Secure Real-time Transport Protocol (SRTP), which provides the encryption, message authentication and integrity.
Mozilla
also warned its users that they shouldn't expect a complete and polished service quite yet, as Firefox said it is too early to expect anything yet, but it will bring an eventual result to all its users, regardless of operating system or device.
"We're excited to start testing this feature in our Nightly channel and look forward to providing frequent updates as we develop this service," Weiner ended.
This new experimental feature in Firefox is in collaboration with the TokBox, whose open source OpenTok video and voice software powers this new service, which does not require any add-on or plug-in.
TokBox
is a PaaS (
Platform as a Service
) company that provides hosted infrastructure, APIs and tools required to deliver enterprise-grade WebRTC capabilities. It does so primarily through its proprietary OpenTok video platform for commercial application.
"Their early support and contributions to WebRTC are helping this emerging standard establish a foothold and earn developer attention," said Chad Weiner, Director of Product Management, Firefox.
VoIP offers a substantial cost savings over traditional long distance telephone calls and if an open source, trusted service like Mozilla Firefox is providing this additional feature to its users, then this is a great news for all of us. Stay Tuned to
The Hacker News
! We will update you when Mozilla will release its new Firefox Nightly version.