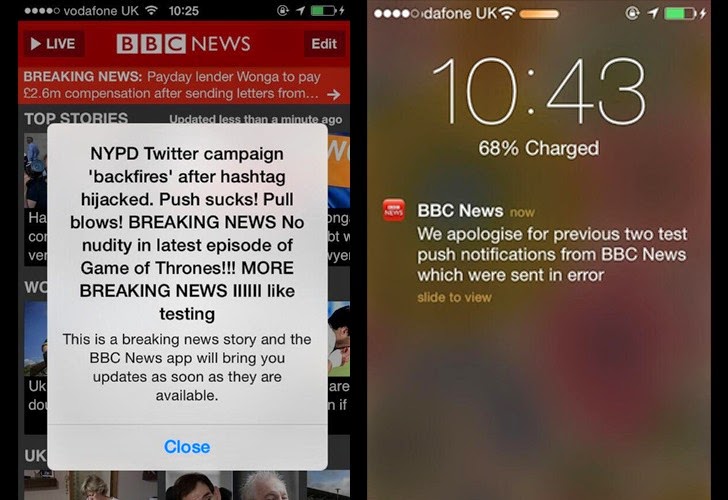 If you are one of the users of the BBC News iPhone app, then you might have receive a strange message as a breaking news notification earlier this morning.
The message was sent on two separate time durations. First the message reads: "NYPD Twitter campaign 'backfires' after hashtag hijacked," then strangely adds: "Push sucks! Pull blows!"
After a while it goes to: "BREAKING NEWS No nudity in latest episode of Game of Thrones!!! MORE BREAKING NEWS IIIIII like testing."
Beneath the message the text seems to get more serious as it adds: "This is a breaking news story and the BBC News app will bring you updates as soon as they are available."
From various media outlets, it was observed that the most popular BBC News smartphone app has been hijacked by the some attackers who compromised its "Breaking News" feature and sent bogus messages to the users of the BBC News iPhone app.
But BBC developers were actually testing some new push message features for their Apps and a test message was sent in error this morning by mistake.
BBC news has responded to this message and posted on their official Twitter account that this notification was by mistake "
sent in error
" to their app subscribers and that their account has not been hacked. "
We apologise for previous two test push notifications which were sent in error to BBC News app subscribers.
" BBC
tweeted
.