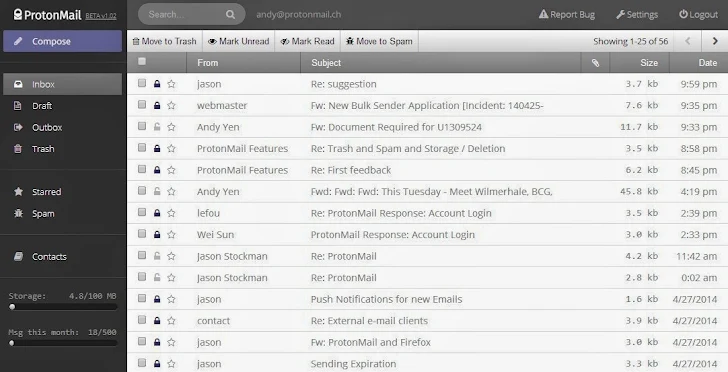 The
Edward Snowden
revelations triggered a large-scale movement worldwide towards deploying encryption across the Internet for secure services, which is something the government agencies like NSA and GCHQ have targeted repeatedly, as exemplified by abruptly shutting down
Lavabit
, a Texas-based Encrypted Email Service.
In response, a group of young developers at the European Organization for Nuclear Research (CERN) has launched a new email service which offers end-to-end encryption and securing communications that could put an end to government snooping and will keep away our personal data from prying eyes.
PROTONMAIL - AN END-to-END ENCRYPTED EMAIL
This new encrypted email service, called
ProtonMail
is a super-secure email service created in collaboration with the scientists from Harvard, the Massachusetts Institute of Technology and the European research lab CERN.
ProtonMail offers a user-friendly experience with full
"end-to-end" encryption
. It encrypts the data on the browser before it communicates with the server, therefore only encrypted data is stored in the email service servers. So, even if someone gains complete access to the server, it will find only the encrypted data. Moreover, there is even a "
self-destruct
" feature in the email service which ensures your emails are only available for a limited period of time.
"We've basically separated the message that's encrypted apart from the key – all the encryption takes place on your computer instead of our servers, so there's no way for us to see the original message," one of ProtonMail's creators, Andy Yen, told Forbes.
PROTONMAIL BASED IN SWITZERLAND
The company is based in Switzerland, so it won't have to comply with American courts' demands to provide users data. In worst case, if a Swiss court ordered to provide data, they can get only the heaps of encrypted data as ProtonMail doesn't store the encryption keys.
The service has just been released in its beta phase. "All user data is protected by the Swiss Federal Data Protection Act (DPA) and the Swiss Federal Data Protection Ordinance (DPO) which offers some of the strongest privacy protection in the world for both individuals and entities. Only a court order from the Cantonal Court of Geneva or the Swiss Federal Supreme Court can compel us to release the extremely limited user information we have," the site reads.
The service is currently in public beta and the team is working on Android and iOS apps as well, which has to launch by the end of the summer. Due to encryption based service, it cannot be used to serve targeted ads, such as Google AdSense, and is currently free.
But in near future, the company is planning to offer premium accounts which will accept bitcoin payments, due to the concern of an additional level of security and anonymity.