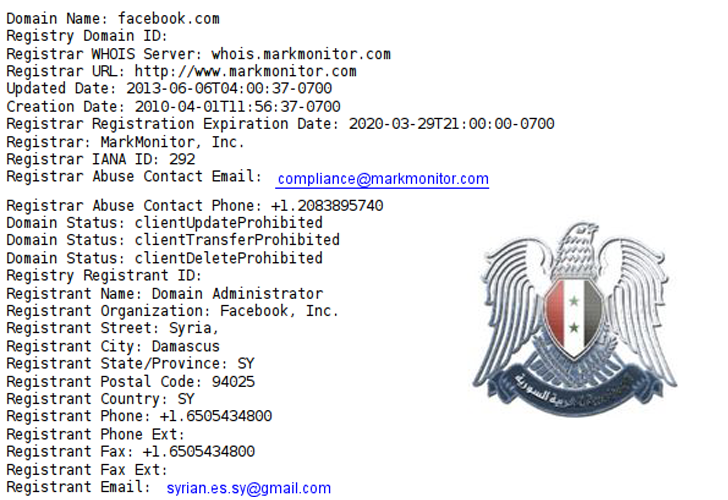 On the 10th Anniversary of Social networking website Facebook, the hacker group '
Syrian Electronic Army
' claimed that they managed to hack into the administrator account of the Facebook's Domain Registrar -
MarkMonitor.
The hacking group changed the Facebook Domain's contact information to a Syrian email address on the company's WHOIS domain information page, as shown.

"
Happy Birthday Mark! https://Facebook.com owned by #SEA
" the group
tweeted
.
Hackers also claimed that it had updated the nameserver information to hijack domain, but the process had to be abandoned because it was "taking too much time..." whereas, Facebook spokesperson did confirm that the website's domain record email contact information had been changed.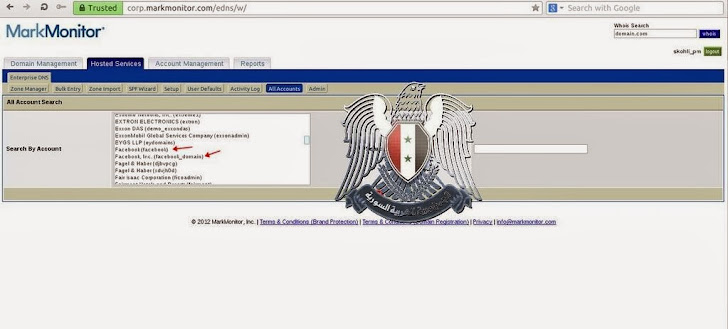 Why SEA Targeted Facebook? Syrian activists and Hackers claimed that Facebook has been deleting pages created by dissidents and removing content as it was violating the social network's standards, according to Facebook, and that important information about the conflict is being lost as a result.
Journalists and activists involved in the Syrian revolution said that the deletion of Syrian opposition pages by Facebook removes important data and context about the revolution there, including some crucial information about chemical weapon attacks last year.

If SEA had succeeded in updating the nameserver record for Facebook, then the millions of users could have been directed to any other defaced or malicious website.

At the time of writing, the registrant contact details were restored and Facebook confirmed that no traffic to the website was hijacked, and that no users of the social network were affected.