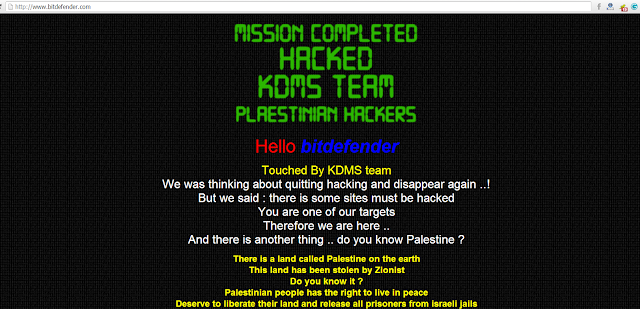 A pro-Palestinian hacktivist group '
KDMS Team
', who recently managed to briefly hijack the
Metasploit website
of security firm Rapid7 and become popular after Hacking World's largest Web Hosting Network Leaseweb website and antivirus vendors
AVG, Avira
as well as mobile messaging service WhatsApp's websites.
Now even I have to say that - Security is just an Illusion, because just now the group aligned with Anonymous has successfully
hijacked
another two Antivirus firm website -
ESET
and
Bitdefender
.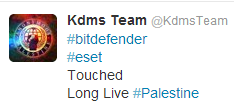 The KDMS Team successfully changed the DNS records of both sites to redirect people to a website playing the Palestinian national anthem and displaying a political message under the title "You Got Pwned".
Message posted on Bitdefender and Eset website says:
Hello

bitdefender


Touched By KDMS team
We

was thinking

about quitting hacking and disappear again ..!
But we said : there is some sites must be hacked
You are one of our targets Therefore we are here ..
And there is another thing ..

do

you know Palestine ?
There is a land called Palestine on the earth This land has been stolen by Zionist Do you know it ?


Palestinian people

has

the right to live in peace Deserve to liberate their land and release all prisoners from

israeli

jails We want peace Long Live Palestine
Both affected domains are registered from REGISTER.COM, INC.
by
companies, which is also a domain registrar for Metasploit website -- was
hijacked yesterday
via a spoofed change request faxed to Register.com. But the technical details on how hackers managed to hijack the ESET and Bitdefender website is not yet available, we are in contact with hackers.. Will update the article in a few hours. Stay Tuned !
Defacement of Security companies is really embarrassing and hacker's tactics allowed them to get their political message to millions of users. One of their team members tweeted, "
When it's a matter of resistance no one will blame you. . Free Palestine .. Fight for Palestine
"
Sites are accessible from many regions around the world now, but you can see Defacement page mirror on Zone-H, created on 2013-10-12 12:20:17 and 12:22:14 for
Eset
and
BitDefender
respectively.
Update (6:12 PM Saturday, October 12, 2013 GMT):
Alin Vlad, Global Social Media Coordinator at Bitdefender provide a comment on the incident, "
We've contacted register.com and they fixed the issue. All Bitdefender customers are and were 100% protected.
"