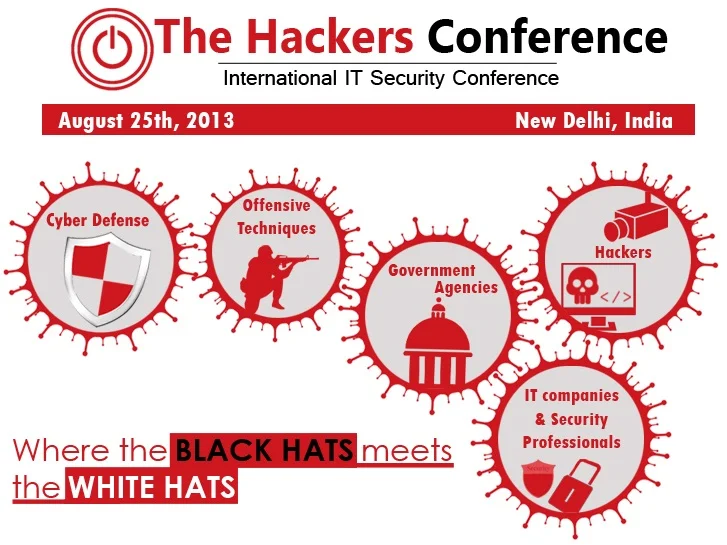 The Hackers Conference
is an unique event, where the best of minds in the hacking world, leaders in the information security industry and the cyber community along with policymakers and government representatives on cyber security meet face-to -face to join their efforts to co-operate in addressing the most topical issues of the Internet Security space.
This is the
second edition of the Conference
. Following the huge success of the conference last year the current edition of the conference brings back to you all the knowledge, all the fun in a better, grander way!
The Conference will be held in New Delhi, on the 25 of August 2013, and will get together industry leaders, Government representatives, Academia and underground Black-hat hackers to share knowledge and leading-edge ideas about information security and everything related to it. There will a Special Session against
Internet Censorship
also @ THC 2013.
The following list contains major topics the conference will cover. Please consider submitting even if the subject of your research is not listed here.
Major Topics:
Offensive Technologies
Defensive Technologies
GSM/VoIP Security
Embedded/Hardware Hacking
Smartphone / Mobile Security
Exploit development techniques
Advance in reverse engineering
National Security & Cyber Warfare
New Vulnerabilities and Exploits/0-days
New Web attacks and application hacking
Mobile Application Security-Threats and Exploits
Malware and Botnet development and Analysis
Critical National Infrastructure Security
Call for Papers
is open, so if you have interesting topics to present at The Hackers Conference 2013 you are welcome to submit! Email your submission to:
cfp@thehackersconference.com
and email subject should be: CFP THC 2013.