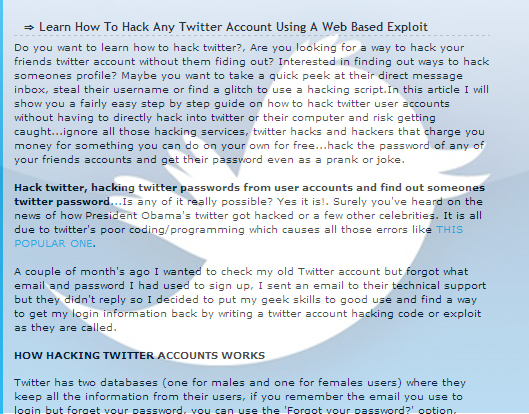 Phishing is most commonly perpetrated through the mass distribution of e-mail messages directing users to a fraud web site or services. These professional criminals daily find new ways to commit old crimes, treating cyber crime like a business and forming global criminal communities. Another latest scam has been
notified
by GFI that, where cyber criminals are offering the art of hacking Twitter accounts with a web-based exploit.
Phishers are sending scam emails and offering fake twitter account hacking service, which in actual will hack their own twitter accounts.
Email from phishers have text, "
Do you want to learn how to hack twitter? Are you looking for a way to hack your friends twitter account without them finding out? Interested in finding out ways to hack someone's profile? Maybe you want to take a quick peek at their direct message inbox, steal their username or find a glitch to use a hacking script,
".
Hackers try to convince readers by showing a exploit code, and explain that how exactly the hack will be performed. Here phisher actually trying to trick user by asking values of parameters used in exploit, such as Victim username, your twitter username and your twitter password (in order to show authenticity).
Once reader will agree with the service in order to use it, they ask the end-user to email the above information to the site owner, along with fake code waffle as the subject line so "
the database knows how to read it in programming language.
"
Users have to be very careful and protect themselves from these threats by using appropriate security software and being aware of the tricks used by cyber criminals. In actual there is no such exploit or way which can hack twitter account of anyone by just one click, if it can then our...
@TheHackersNews
is open for you !