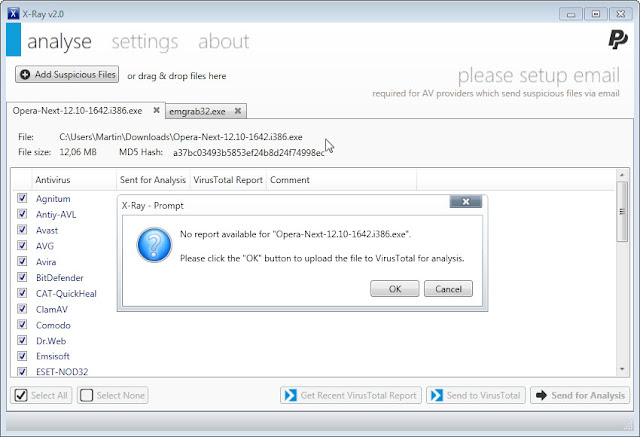 Raymond announce
X-Ray 2.0,
a program which is frontend for VirusTotal multi scanner. X-Ray will provide users with automatic submission of files that you think are suspicious to 35 (Agnitum, Antiy Labs, Avast, AVG, Avira, Bitdefender, QuickHeal, ClamAV, Comodo, Dr.Web, Emsisoft, ESET, F-Prot, F-Secure, Fortinet, Hacksoft, Ikarus, K7Antivirus, Kaspersky, Kingsoft, McAfee, Microsoft, Norman, nProtect, Panda, PC Tools, Rising, Sophos, SUPERAntiSpyware, Symantec, TotalDefense, TrendMicro, VBA32, Vipre, ViRobot).
Key Features:
- Abort upload progress
- Retrieve latest scan report from VirusTotal (API 2.0)
- Send file to VirusTotal for scanning (API 2.0)
- Automatic failover when chosen method for sending files to VirusTotal fails.
- Two methods of sending files to VirusTotal (Email and API)
- Copying MD5 hash and results to clipboard via right click context menu.
- History (VirusTotal detection report and Analysis Submission date & time)
- Clear History
- Change submission method for a particular antivirus from Settings
- Test email settings
- Auto update checker
- Support 6 CAPTCHA recognition service
- Proxy Support
- Right Click "Send To"
- Support Windows XP/Vista/7/8 (32bit & 64bit)
- Freeware (no spyware or adware embedded)
- Portable (history and encrypted settings are stored in AppData)
The new version features several improvements, most prominently full support for VirusTotal's API 2.0, support for automatic captach recognition services, proxy support, and a right-click send to option to use the program from within Windows Explorer.