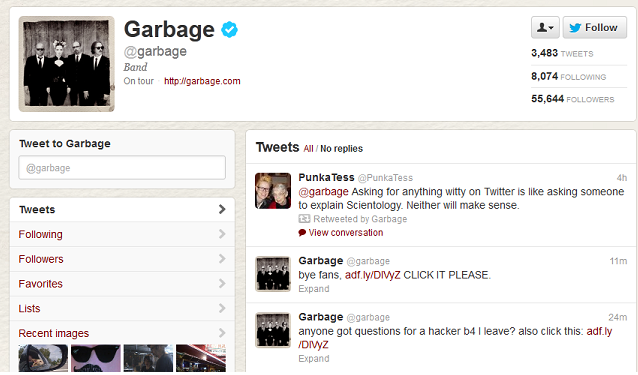 Official Twitter account of Rock band '
Garbage
' has been compromised and hacker is posting Spam tweets and links using adf.ly, which is a url shortener service that pays on clicks. Hacked twitter account hack around 55,563 Followers.
Hacker can post malicious links also, but in this case we can see that purpose is not to infect other, instead hacker want to make some money by spreading links. Even he has mention this in a tweet, "All you people saying I'm dumb. I've made over 19 dollars by spamming ad.fly links. I hack twitters and spam them great money,"
How hacker got access to twitter account is not yet clear, may be phishing, social engineering or can be a password guess, but once readers should learn the importance of strong password.
Yesterday we have posted another Exclusive report that, how
15000 wordpress blogs hacked
and hacker is making money from referral system by posting spam articles on each blog.