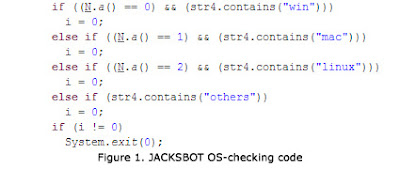 Intego discovered a Multiplatform Java Malware called "
Jacksbot
" , which is infecting Windows, Linux and Mac systems.
The Jacksbot is described as a 'backdoor Trojan Java "on infected computers and collects system information, make screenshots, delete files, steal passwords and perform click fraud and DDoS attacks.
Researchers said,Although it can run on any platform that supports JRE, It appears likely that this trojan is intended to be dropped by another component that has not yet been identified. "
There is a possibility that this malware presents itself as a Minecraft modification to unsuspecting users as it contains the special command 'MC for stealing Minecraft passwords from the compromised system
," Johanne Demetria explain in
post
.
"However, the malware's focus is mainly on Windows. The malware writers behind JACKSBOT may just be testing the waters for a successful multiplatform malware; however for now they appear to be unwilling to invest the time and resources to develop the code more completely." TrendMicro said.