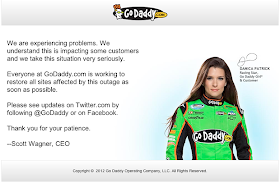 GoDaddy.com, which hosts millions of websites mostly for small businesses, said Monday it was investigating an outage that had knocked some of its customers offline. A hacker using the "
Anonymous Own3r
" Twitter account claimed credit for the outage, "
Hello https://godaddy.com/ now yes! all servers #tangodown by @AnonymousOwn3r
," a tweet said.
We talk with Anonymous Own3r to find out the way he used to take down this giant server. Hacker said," I am using thousand of Hacked server as bots to perform the attack. Sending dos attack commands using IRC to all of them together. I just upload IRC connect on each server to control my every slave by commands."
On further talk, we came to know that he use
DDOS IRC Bot script
, available on
Pastebin
. Its really easy to use, hack randomly hundreds of Servers online and upload your Script. Now just via IRC you can control your slaves to perform a huge DDOS attack.
Email services from the company, and GoDaddy's own website, were also affected. According to the company, the bulk of these services were restored a little over four hours later, and no customer data was compromised. A message on the Go Daddy Support site read: "We are aware of an issue affecting several services, including email, our website and some customer websites. We understand your frustration. We want you to know that our team is investigating the source of the issue and is working to resolve it as quickly as possible."
Hacker claim that, "the attack is not coming from Anonymous coletive , the attack it's coming only from me" and Reason given by him in a tweet is "I'm taking godaddy down bacause (sic) well i'd like to test how the cyber security is safe and for more reasons that i can not talk now."
He said "when i do some DDOS (Distributed Denial of Service) attack i like to let it down by many days , the attack for unlimited time, it can last one hour or one month."
The attack began at around 10.00 Pacific time (17.00 GMT/18.00 BST) and appears to affect the registrar's DNS servers. Any site that is hosted with GoDaddy could be affected, although as of 13.00 Pacific (20.00GMT/21.00BST) the company reported that at least some service had been restored.
Last year GoDaddy was pressured into opposing SOPA as customers transferred domains off the service, and the company has been the center of a few other controversies. However, AnonymousOwn3r has tweeted "I'm not anti go daddy, you guys will undestand because i did this attack."
In addition to registering Internet sites, GoDaddy also sells e-commerce, security and other services to people and businesses looking to manage their online presence.
In last
tweet
Hacker said, "
I will keep the attack to godaddy soon u guys can acess
".
UPDATE:
After suffering from a huge denial-of-service attack yesterday, which shut down millions of websites and email addresses, DNS host GoDaddy.com is finally live again after transferring its own Domain Name Servers to competing hosting site, VeriSign.