Anonymous plans to take down

Great Firewall of China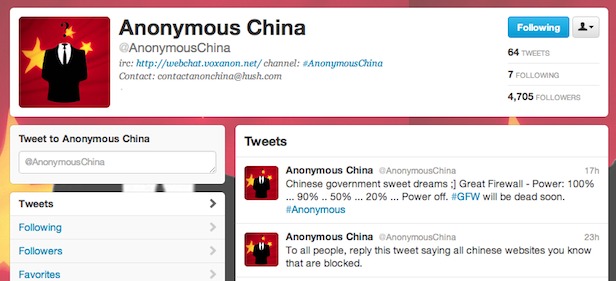 Anonymous
plans to launch more attacks on Chinese government Web sites in an effort to highlight corruption and push for human rights improvements. While they managed to
deface well over 500 sites
we are now hearing they aren't finished yet and have even more plans for the Chinese government coming soon, and bigger targets.
The group used the Twitter account "
Anonymous China
" to publicise the attacks, posting links to data files that contained passwords and other personal information from the hacked websites. This comes just days after all the attacks last week that even had messages warning of the downfall of the Chinese government.
The attacks are part of a bigger plan according to Anonymous hacker "
f0ws3r
" who told Reuters that the group is hoping to take down the "
Great Firewall of China
" A
recent tweet
from the Anonymous China Twitter feed confirms the group's plans.
They claim to have hundreds of translators helping them hack Chinese Web sites. This is consistent with the hacks that happened a few weeks ago being displayed in English instead of Chinese.
The hacker declined to give further details on the next round of attacks, except to say it may hit bigger targets.The United States says it has suffered many high-profile hacking attacks that appear to come from China, often targeting human rights groups as well as U.S. companies. China maintains that it too is a victim of hacking attacks.