MegaUpload founder

Kim Dotcom

released on bail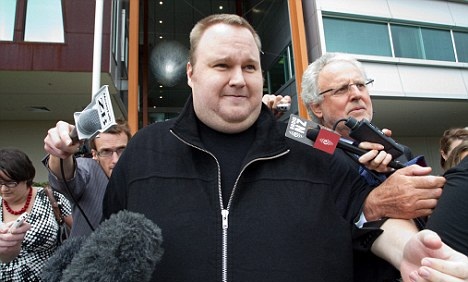 Kim Dotcom, the millionaire founder of the file-sharing website Megaupload, was released on bail Wednesday after a judge said he didn't appear to have enough money to flee. Authorities in the U.S. allege founder Kim Dotcom facilitated millions of illegal downloads through his company and he is subject to online piracy charges.
Last month, U.S. authorities shut down Megaupload's websites and announced indictments against Dotcom and six other people connected to the site, accusing them of operating an "international organized criminal enterprise responsible for massive worldwide online piracy of copyrighted works." They say Megaupload generated more than $175 million in illegal profits through advertising revenue and the sale of premium memberships.
He had been in custody since his arrest on January 20 after he was initially denied bail. He said: '
I am relieved to go home to see my family, my three little kids and my pregnant wife a
nd I hope you understand that that is all I want to say right now.
'
Dotcom was born Kim Schmitz but legally changed his name. He is a citizen of both Germany and Finland and was granted New Zealand residency in 2010. He has also lived in Hong Kong, where the Megaupload company is registered. The Megaupload founder, along with three of his associates, will face a hearing for extradition starting on 20 August, which is expected to take three weeks.