Linux.com down again due to Security Breach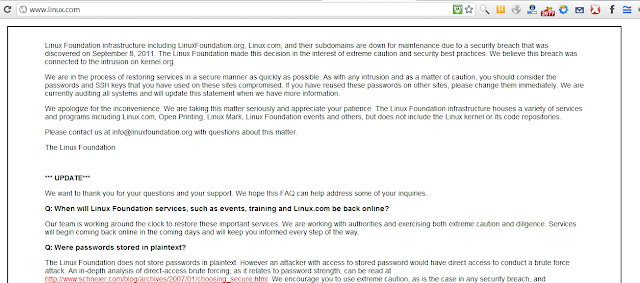 Linux Foundation infrastructure including LinuxFoundation.org, Linux.com, and their subdomains are again down for maintenance due to a security breach that was discovered on September 8, 2011. Investigators yet can't elaborate the source of attack. Regarding coming back online , Linux.com says "
Our team is working around the clock to restore these important services. We are working with authorities and exercising both extreme caution and diligence. Services will begin coming back online in the coming days and will keep you informed every step of the way.
" The added "
We are in the process of restoring services in a secure manner as quickly as possible. As with any intrusion and as a matter of caution, you should consider the passwords and SSH keys that you have used on these sites compromised. If you have reused these passwords on other sites, please change them immediately. We are currently auditing all systems and will update this statement when we have more information.
"
Linux Foundation make sure that they does not store passwords in plaintext,So its hard for attacker to decrypt all hashes (its depends upon password strength).