Chris Hoff, HacKid.org

Leads UNITED Security Summit Award Winners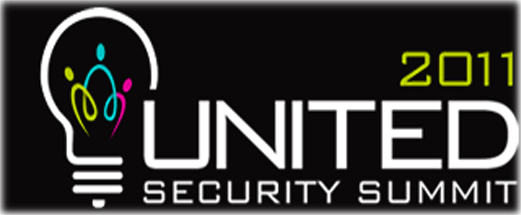 Awards Recognize Outstanding Contributions to Propel the Information Security Industry Forward to Meet Future Challenges
San Francisco, CA at the UNITED Security Summit – September 20, 2011 –
The first annual
UNITED Security Summit
included an awards ceremony at the official event party, held at Vessel, San Francisco last night. The UNITED Security Summit Awards focus on recognizing the contributions of individuals and organizations that are propelling the information security industry forward, building the level of preparedness in the face of the changing threat landscape. Winners at the ceremony were recognized specifically for innovation, collaboration, investment in the future or in the industry in general, and leadership.
"As a co-sponsor of the UNITED Security Summit awards and participant in the judging process, it's exciting to see how innovative and collaborative companies in the security industry are," said F. Ward Holloway III, vice president of Business Development, FireMon. "Recognizing these winners is a big step to fueling the type of tireless commitment our industry needs in order to grow and help organizations stay secure."
The UNITED Security Summit Awards winners for 2011 are as follows:
The Innovation Award: recognizing the organization, individual or project that has demonstrated exemplary innovation in addressing infosec challenges. This winner of this year's Innovation Award is:
Cloudflare
, selected for its innovative approach to enhancing the performance and security of every website on the Internet. CloudFare makes the web faster and safer for more than 350 million Internet visitors and has stopped more than a billion attacks directed at its customers' websites.
The Collaboration Award:
honoring an industry alliance or body, or recognizing a vendor collaboration, or a number of individuals that have worked together to address an infosec challenge. The winner of this award is
Dave Kennedy
, also known as Rel1k. Kennedy embodies collaboration in the infosec industry by dedicating countless hours to supporting a number of open source projects, founding DerbyCon to provide networking opportunities for infosec professionals, and co-authoring a book and a number of tools, including the Social Engineer Toolkit, made freely available to the industry.
The UNITED Bright Light award:
recognizing
charitable work or an example of dedication above and beyond the norm. The winner of this year's award was
Johnny Long, Hackers for Charity
. Based in Uganda, Hackers for Charity feeds and educates the world's most vulnerable citizens through a number of activities related to information security. The charity provides free IT and security training to help students learn skills and secure employment, provides technical assistance to local charities and non-profits, and diverts the profits from sales of Long's book,
No Tech Hacking
,
to provide food for HIV and AIDS sufferers in East Africa. The award was received by Marcus Carey, who works with Long on a newly founded charity:
Infosec Without Borders
.
The Leadership Award:
recognizing a CISO/ CSO or security team that has led by shining example this year. This award goes to
the
security team at
Zynga
.
When it comes to player security, Zynga doesn't play games. Zynga Security is a team of many security specialists and spans from application security engineers, e-crime analysts and security architects to incident response engineers and forensic analysts. Zynga not only strives to be an industry leader in security best practices, but also utilizes "out-of-the-box" approaches to solve complex security challenges. The team has a strong focus on education and awareness, investing a large amount of time and effort into explaining the thinking behind security policies, and making this fun and meaningful for players through interactive tutorials and videos. Zynga also collaborates closely with other security teams in the industry. It frequently encourages security vendors, partners and suppliers to challenge traditional ways of thinking to be more innovative.
The Brightest Future Award:
honoring
an individual or organization that makes the greatest effort or investment to prepare the security industry for the future (e.g. training, developing alliances, education program at a school). This award was won by
Chris Hoff, Founder of HacKid Con
,
an event established for the belief that children represent the future and teaching them in a fun and engaging way builds the best foundation for future success. The HacKid conference provides an interactive, hands-on experience for kids aged 5-17 and their parents to learn about technology, gaming, mathematics, safety, privacy, networking, security and engineering.
"The information security industry must continue to evolve and innovate to attract the brightest minds, foster better collaboration, and stay ahead of the challenges that will always come from the changing threat landscape. This requires leadership and action from each of us and these awards recognize individuals and organizations that are already leading by example," said Sheldon Malm, senior director of Security Strategy and Alliances of award co-sponsor, Rapid7. "Ours is still an industry in its infancy, and we hope the actions of this year's winners will inspire more innovation, broader collaboration, and a stronger security community for generations to come."
About UNITED Security Summit
The UNITED ("Using New Ideas To Empower Defenders") Security Summit is the premier venue entirely focused on innovation and collaboration in the security community. Bringing together security decision makers, practitioners, commercial vendors, open source projects and academia, the Summit highlights technologies and approaches to help organizations better cope with today's increased security threats. Unlike other conferences, UNITED's agenda is based on the anatomy of a breach, and provides educational and interactive sessions that reflect on the fundamental security challenges from four perspectives (attacker, operational leadership, IT leadership and the security community) through a common lens.
The UNITED Summit, September 19 - 20, 2011 at the Hyatt Fisherman's Wharf in San Francisco, California, features a variety of industry experts, including Stephen Dubner, co-author of
Freakonomics
and
Superfreakonomics;
Chris Young, VMware vice president and general manager; and HD Moore, Metasploit chief architect and Rapid7 CSO. For more information please visit
https://www.unitedsummit.org/