PayPal UK

Twitter account hijacked by angry customer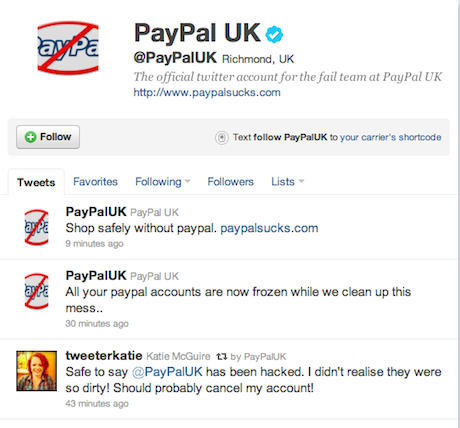 Second high-profile hack of the week against Twitter accounts, Yesterday

FOX News Twitter Account was Hacked

by 5CR1PT K1DD3S & then sent false tweets saying that U.S. President Barack Obama had been shot dead. Today an angry customer of Paypal hijack the Twitter account of PayPal UK.

In PayPal's Hacking case, the attackers sent out messages promoting

paypalsucks.com

, a site devoted to what it says is "

exposing the nightmare of doing business 'the PayPal way'

".


Another tweet sent from the hacked account read, "

PayPal can freeze your funds for no reason, do not use PayPal!!

" The account's photo and description was changed before being taken down by Twitter.




The Tweets were removed within a few hours of the hijacking. "

Sorry, the profile you are trying to view has been suspended

," Twitter said on its page for the PayPalUK feed.

A spokesman for PayPal UK said that the company is looking into what happened but emphasised that it was only the Twitter account, and not any of the sensitive customer systems with credit card or other data that had been breached. Twitter accounts are protected by a simple password which can sometimes be guessed or stolen and means that the service can be accessed by anyone with that password.