Armitage 07.12.11

- Updated Version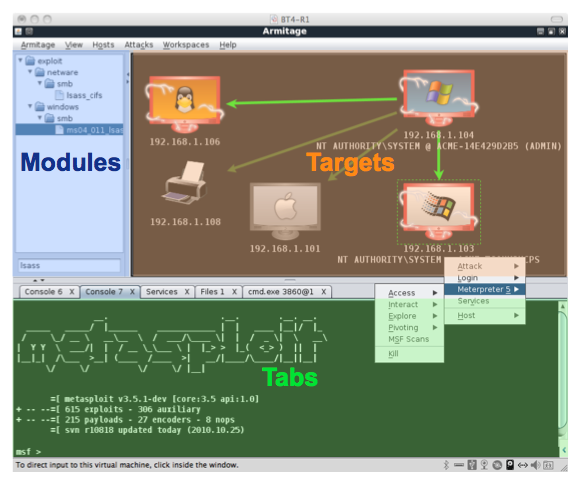 Armitage is a graphical cyber attack management tool for Metasploit that visualizes your targets, recommends exploits, and exposes the advanced capabilities of the framework. Armitage aims to make Metasploit usable for security practitioners who understand hacking but don't use Metasploit every day. If you want to learn Metasploit and grow into the advanced features, Armitage can help you.
This is the official change log :
Fixed a race condition causing some file browser actions to fail on Windows hosts at times.
Files downloaded through file browser are now archived in: [host]Downloads
Hail Mary output nows goes to [log dir]allhailmary.log
Added Crack Passwords button to Credentials tab. This opens the launcher for John the Ripper: auxiliary/analyze/jtr_crack_fast
Added Post Modules item to Meterpreter N -> Explore and Shell N menus. This menu item will show applicable post-exploitation modules in the module browser.
Loot browser now opens loot viewer as a tab.
Loot viewer now has many of the same keyboard shortcuts as a console tab. You can Ctrl+F to search for stuff, Ctrl+Plus/Minus to increase and shrink the font, and Ctrl+A to select everything.
Download Armitage 07.12.11