AntiSecShell v.0.5

Shell Released by underground hackers of

Antisec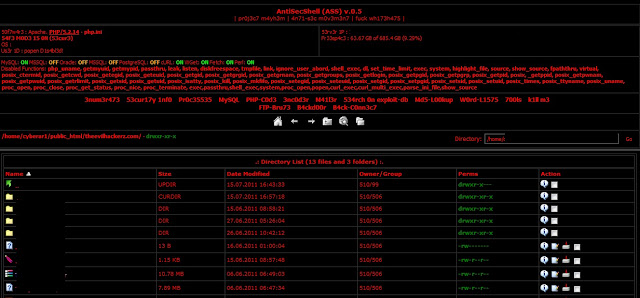 AntiSecShell (ASS) was built by the underground hacking community and groups like h0no, ac1db1tch3z and others who wish to remainanonymous, have helped altogether to create this new shell. It hasmany functions but most important of all - it bypasses ALL securityof web servers. It is not only a php shell it is a symbol offreedom and the anti-sec movement which we, the hacking underground, approve and support.
Note : Shell can be backdoored, Use at your own Risk.
Download the shell :
.....Link Removed.....
Username : antisec
Password : forever
Message By Hackers :
"On 25.07.2011 at the IRC of notorious group Anonymous (we support
them too), underground groups will reveal 0-day exploits
exclusively only for selected members with verification code. The
code is in the AntiSecShell we released earlier, it is displayed at
the bottom of the page. What will 0-days cover you ask?
- Apache 2.X branch RCE exploit
- OpenSSH(debian and x86 systems only) all versions 0-day remote
root exploit
- vBulletin 3.8.6 and 3.8.4 SQL injection 0-day exploit
- MyBB 1.6.X branch CSRF 0-day exploit
and only for few selected people will receive nginx *** overflow
exploit working on all versions.
The underground is here.
The underground is today.
The underground will crush all whitehats.
Anti-sec till we die."