Turkey police

arrests 32 Anonymous hackers for DDOS attack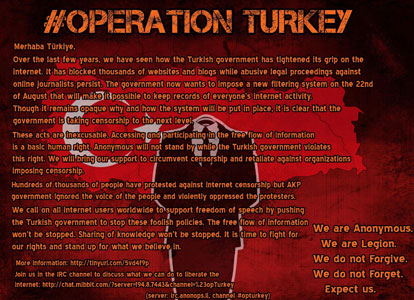 Turkey have detained 32 more suspects that the authorities believe are linked to Anonymous. The Turkish state-run news agency reports that the suspect were taken into custody by police after raids in dozens of cities it's not clear how the police linked the 32 people to the hacker group.
The arrests in Turkey came after the hacker group targeted the Turkish websites of the prime minister's office and parliament in what the group called a protest against the plans of the Turkish government to place filters on the internet.
Anonymous also issued a statement that said, "Regardless of how many times you are told, you refuse to understand. There are no leaders of Anonymous. Anonymous is not based on personal distinction," the group posted in a statement. "You have not detained three participants of Anonymous. We have no members and we are not a group of any kind. You have, however, detained three civilians expressing themselves." The group claims that its DDOS attacks are the same sort of peaceful protest that sitting in front of a shop somewhere denying entry is in the real world.
Source