XSS Vulnerability

found on Sony PlayStation Store Website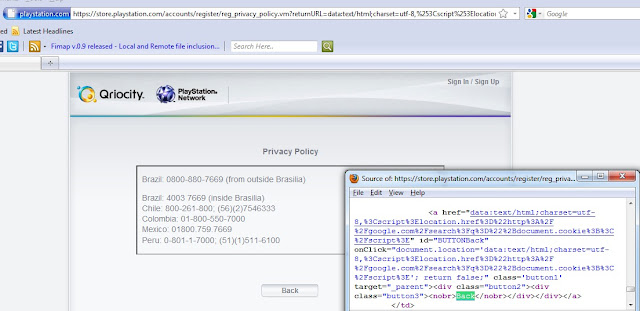 XSS Vulnerability found on Sony PlayStation Store Website at

https://store.playstation.com/

,This
Vulnerability is posted by someone on a

Forum

site. The XSS is working on Firefox Browser, Not applicable for Crome Browser. Here in Screenshot you can see that, The backlink Code behind "Back" button has been modified using XSS attack.
Proof of Concept :
1.) Open Url in Firefox : Click Here
2.) Now Click on the Back Button shown at middle of the page. You will be Redirected to Google.com .
This XSS Vulnerability can be misused By hackers for Phishing or any Cyber Crime Activity. We have Notice that, almost 70% Sony's websites are Vulnerable with various Flaws.
Sony Should Fix it as soon as possible, Before any next hack attack.
Thanks.