Facebook Security Update

, Protection from Untrustworthy Websites With

Web Of Trust (WOT)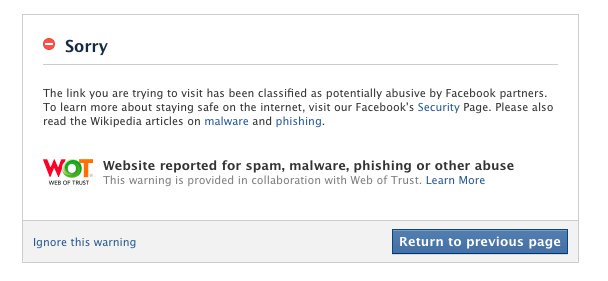 Web of Trust (WOT), the worlds leading crowd-sourced website reputation rating service, and Facebook, the Internets leading social platform, begin collaboration today to give Facebooks over 500 million users reliable protection against dubious web links. When a Facebook user clicks a link that leads to a page with a poor reputation rating given by the WOT community, Facebook shows a warning message. WOTs global community has reported five million sites for phishing, untrustworthy content, fraudulent services or various scams.
Facebooks ability to protect its users from malicious links is significantly improved with the use of WOT reputation ratings. Whenever a Facebook user navigates to an untrustworthy site a warning will appear allowing the person to avoid the link, learn more about the rating or continue forward. Web users have rated more than 31 million websites with the free WOT add-on. WOTs free service has over 20 million users globally.
"Facebook cares deeply about preserving user trust and providing users with the best tools to enjoy a safe experience online. We are excited about our partnership with Web of Trust--they share similar goals and approaches in giving users better control of their online experience," says Jake Brill, Manager Site Integrity for Facebook.
"Web of Trust protects Facebooks interactive environment by providing reliable, practical, real-time information that people can use to keep their social networks safe. Friends take care of each other, and make the entire web safer, by rating websites with the WOT safe surfing tool," says Vesa Per�l�, CEO of WOT Services Ltd.
In addition to Facebook, users of the WOT tool also see reputation icons on Google search results, email links, Twitter and for shortened URLs. Each user can rate websites themselves and add explanatory comments. WOT ratings are recalculated every 30 minutes to ensure users have the freshest and most reliable information. The free WOT plugin works in all web browsers and is easily downloaded at mywot.com.
WOTs crowdsourced model regularly uncovers dangers and threats that automated algorithm-based systems miss. Typical examples include pointing out e-commerce sites with questionable business practices and giving advance notifications of content not suited for children.
About WOT Services Web of Trust (WOT) is a community-powered surfing tool that boosts trust on the Internet, by using authentic user experiences to help web users find reliable websites. The leading community-based safe surfing tool uses an intuitive traffic-light rating system to help web users stay safe when they search, surf and shop online. Website ratings are powered by a fast growing worldwide community of over 20 million users who have rated the reputation of 31 million websites based on their experiences in terms of trustworthiness, vendor reliability, privacy and child safety. Information from selected technical services is also used.
The add-on works with Firefox, Google Chrome, Internet Explorer, Opera and Safari and is a free download from www.mywot.com.
Yes, there is a version for Chrome just click here to get it.