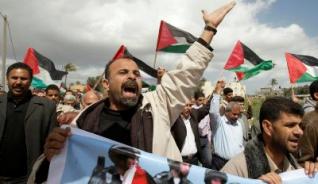 Jordan's opposition Islamic Action Front party said Sunday its website has been hacked, a day after it called for the ouster of the prime minister over a deadly crackdown on protesters.
"The content of the website has been replaced with slogans and statements, clearly showing that an official party is behind the hacking," IAF chief Hamzah Mansur told AFP. He did not identify who hacked the website.
"We condemn this action, but we in Jordan are used to such attacks against freedom of expression and the press."
Calling themselves "JH-Team," the hackers have posted a picture of King Abdullah II, quoting a 2009 address of the monarch as saying that "those who talk about threatening Jordan, its identity, stability and national unity do not know the kingdom, its people and their history."
"We will continue to hack the website and all sites for your lying, loser and mean party," said a statement on the Islamists' website.
On Friday, a 55-year-old man died and and 160 were injured as police broke up a pro-reform protest camp set up near the interior ministry after 200 government supporters threw stones at 2,000 young demonstrators, including the Islamists.
The next day, the IAF, the political arm of the Muslim Brotherhood in Jordan and main opposition movement as well as leftists and trade unions demanded the ouster of Prime Minister Maaruf Bakhit, blaming him for violence.