HBGary chief Aaron Barr's Twitter account hijacked and personal details leaked in revenge for infiltration of hacking collective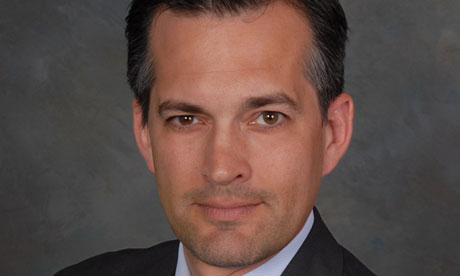 The loose hacker collective Anonymous says it has taken revenge on aUS security company whose principal claimed to have penetrated the group and identified some of its key people.
They hacked the Twitter account of Aaron Barr, the chief executive of HBGary, and sent out a series of angry tweets while many Americans were watching the Super Bowl match on Sunday night, allegedly including Barr's social security number and address, and his mobile phone number.
The tweets link to torrents of the company's emails. Members of the group also put up a brutal set of claims: "Anonymous has:
"entire control of all emails for the company of hbgary.com. we have full admin control of
"hbgaryfederal.com. we have wordpress control of hbgary.com
"all emails will be put up in a torrent.
"full access to all their finincials
"their ssns [social security numbers]
"their w2s [US tax reporting statement]
"their 1099s [US tax identification certificate]
"their software products
"their malware data (although Anonymous rm'd [deleted] their entire terabyte of data sorry)
"their backup server was wiped.
"access to their pbx system via 8x8.com
"control of their support server and their clients logins
"root access to rootkit.com, personal website of greg hoglund
"aaron barr's ipad is now wiped"
Barr could not be contacted to find out how many of these details were correct. The HBGary site had been replaced by a placeholder this morning.
Anonymous claimed that they replaced the front page of HBGary's site with an image rebuking the company and saying "you're nothing compared to Anonymous. You have little to no security knowledge. Your business thrives off charging ridiculous prices for simple things like NMAPs, and you don't deserve praise or even recognition as security experts."
It added: "If you swing a sword of malice into Anonymous' innards, we will simply engulf it. You cannot break us, you cannot harm us, even though you have clearly tried."
The company was targeted after Barr was quoted in the Financial Times saying that he had identified two key members of Anonymous, including a co-founder in the US, and senior members in Britain, Germany, the Netherlands, Italy and Australia. He said he had picked up clues about their identities via online sources such as email, Facebook and Internet Relay Chat (IRC).
In January UK police arrested five people accused of having taken part in attacks against sites such as PayPal in December as revenge for its withdrawal of payment facilities for WikiLeaks. US authorities and other European police forces have also arrested people accused of taking part in the online attacks.
The Anonymous attack was claimed to have been carried out by five people who alleged that Barr had planned to meet US authorities on Monday morning and sell his findings to the FBI. The attackers made the file with the details Barr had planned to release public, but asserted that the numbers given were incorrect and that the names were "random".
In a sarcastic press release on the Anonnews site, someone from the group posted a release (though dated 6 January, it was actually posted on 6 February) saying "Mr Barr has successfully broken through our over 9000 proxy field and into our entirely non-public and secret insurgent IRC lair, where he then smashed through our fire labyrinth with vigor, collected all the gold rings on the way, opened a 50 silver key chest to find Anon's legendary hackers on steroids password."