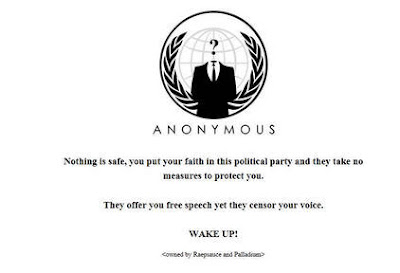 The Data Protection Commissioner is investigating the attack on the Fine Gael website yesterday, after an Evening Herald journalist claimed he was sent data of 2,000 users of the site after the hack occurred.
The Data Protection Commissioner said Fine Gael contacted him after their site was attacked by those using the "Anonymous" banner.
On Twitter, Kevin Doyle, an Evening Herald journalist claimed the commissioner was informed the data of 2,000 users of the site was stolen by those who attacked it. He previously said it was almost 4,000, however, this was due to repeat posters on the database.
Doyle also said the database he received of the site's users contained phone numbers, IP addresses and email addresses.
Fine Gael recently revamped its site, letting the public post comments and register their mobile numbers and email addresses in order to receive information on the political party's upcoming election campaign.
However, the site was taken offline and replaced by an image representing Anonymous, with content reading: ""Nothing is safe, you put your faith in this political party and they take no measures to protect you. They offer you free speech yet they censor your voice. WAKE UP!"
News Source : Google