Police in the Netherlands have arrested a second teenager in relation to the pro-WikiLeaks distributed denial-of-service attacks seen earlier this week.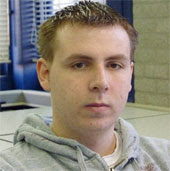 The arrest of the 19-year-old man follows Friday's attacks on websites belonging to Dutch Police and national prosecutor's office, which were themselves widely seen as retaliation against the apprehension the day before of a 16-year-old Dutch boy alleged to have participated in "Anonymous" pro-WikiLeaks attacks against a number of websites, including MasterCard and PayPal.
Prosecutors claim that the 19-year-old, from Hoogezand-Sappemeer, in the north east of the Netherlands, flooded the prosecutor's website with internet traffic:
"From behind his computer, the man used hacker software to flood the website of the prosecutor's office with as much digital traffic as possible. Investigations by the National Police Services Agency showed that the man, who was active under the internet nickname Awinee, urged other internet users to participate in the attack."
However, it is reported that the DDoS attack software being used did not hide the IP address of the computer involved, making it easy for high-tech crime cops to identify where the attack was coming from.
That's a pretty silly mistake to make if you're going to attack the website of your country's national prosecutor.
Who is "Awinee"? Well, a quick search on Google found a gaming website of a guy who lives in Hoogezand-Sappemeer, is 19 years old, and uses the online nickname "Awinee", going by the real name of Martijn Gonlag: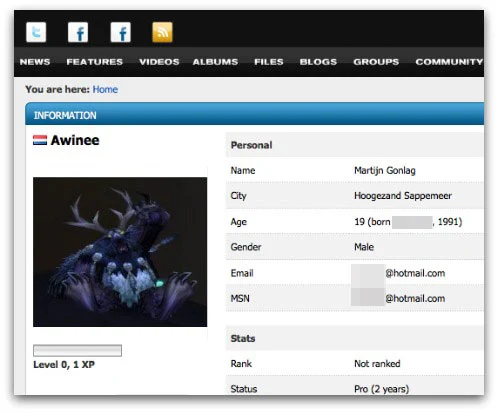 Of course, that may just be coincidence. Wikipedia says 34,000 people live in the Hoogezand-Sappemeer municipality, and maybe plenty of the 19-year-olds there use that online nickname.
Denial-of-service attacks are illegal in many countries, and in The Netherlands can result in a maximum sentence of six years in jail.
Prosecutors claim that the man also participated in a DDoS attack against the website Moneybookers.com, which took the website offline for a period of time on Friday. Moneybookers.com terminated its relationship with WikiLeaks in August.
The ongoing saga of WikiLeaks is, of course, a controversial one that is generating strong emotions on both sides. Even if you feel strongly that WikiLeaks is being persecuted or abandoned by online companies think very carefully before volunteering your PC and engaging in a DDoS attack.
After all, it could be that the police are knocking on your door next.