Indian Cyber Army
Hack Ogra.org.pk website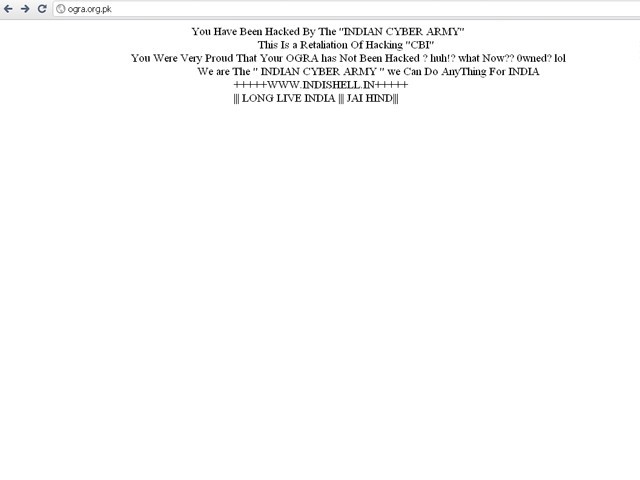 In a dangerous emerging trend of back and forth website defacing, a group of Indian hackers called the 'Indian Cyber Army' hacked the Oil & Gas Regulatory Authority (OGRA) [www.ogra.org.pk] website on Saturday. The website was later recovered by the site admins.
The message left on the Ogra page says the hack is in response to the attack on over 200 Indian websites by the 'Pakistan Cyber Army.' The message reads:
You Have Been Hacked By The "INDIAN CYBER ARMY" This Is a Retaliation Of Hacking "CBI"
Earlier, a group of Pakistani hackers going by the name of 'Predators PK' hacked over 200 Indian websites, as a form of retaliation to a recent cyber attack on Pakistani sites carried out by the Indian Cyber Army (ICA). Unlike the ICA attack which was cited as 'revenge for 26/11′, the page inserted by Pakistani hackers did not suggest ideological motivations, but simply revenge.
Pakistani hacker's perspective
The PakCyberArmy (PCA) in an email exchange with The Express Tribune said that the hacks were an act of 'revenge' in response to the Indian hacks.
"I do this because I love Pakistan and want to do something 'big' for my country," the chief of PCA said.
The page inserted by Pakistani hackers did not suggest ideological motivations. The principal message by a hacker going by the handle, HEX786 read:
This is Just A Warning To All Script Kiddies Indians Hackers. Stop Being no0bs and Defacing Pakistani Web Sites Dont prove Us to Do Something. Your Security Was good But We Like Breaking it !
Indian hacker's perspective
The Indian hackers involved in the original attack said that they wanted to 'convey a message to Pakistani citizens on opposing terror route being followed to disturb neighbours.'
The original attack by the ICA was a form of 'hacktavisim' in retaliation to the Mumbai attacks.
"
Indian Cyber Army owns you. Rest in peace, the heroes of 26/11 who laid their precious lives for the country … because of some Pakistanis, whole of Pakistan is being given bad words
," was the message displayed on the page.