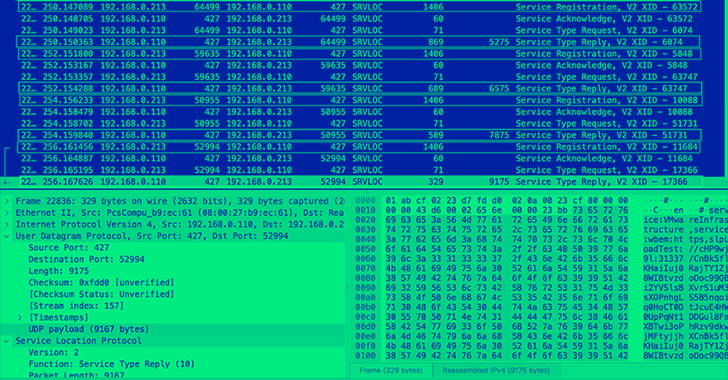 Details have emerged about a high-severity security vulnerability impacting Service Location Protocol (SLP) that could be weaponized to launch volumetric denial-of-service attacks against targets.
"Attackers exploiting this vulnerability could leverage vulnerable instances to launch massive Denial-of-Service (DoS) amplification attacks with a factor as high as 2,200 times, potentially making it one of the largest amplification attacks ever reported," researchers Pedro Umbelino from Bitsight and Marco Lux from Curesec said in a report shared with The Hacker News.
The vulnerability, which has been assigned the identifier CVE-2023-29552 (CVSS score: 8.6), is said to impact more than 2,000 global organizations and over 54,000 SLP instances that are accessible over the internet.
This includes VMWare ESXi Hypervisor, Konica Minolta printers, Planex Routers, IBM Integrated Management Module (IMM), SMC IPMI, and 665 other product types.
The top 10 countries with the most organizations having vulnerable SLP instances are the U.S., the U.K., Japan, Germany, Canada, France, Italy, Brazil, the Netherlands, and Spain.
SLP is a service discovery protocol that makes it possible for computers and other devices to find services in a local area network such as printers, file servers, and other network resources.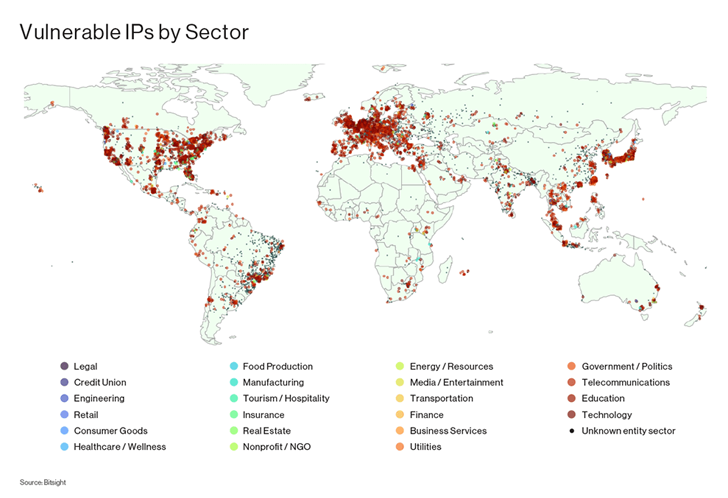 Successful exploitation of CVE-2023-29552 could allow permit an attacker to take advantage of susceptible SLP instances to launch a reflection amplification attack and overwhelm a target server with bogus traffic.
To do so, all an attacker needs to do is find an SLP server on UDP port 427 and register "services until SLP denies more entries," followed by repeatedly spoofing a request to that service with a victim's IP as the source address.
An attack of this kind can produce an amplification factor of up to 2,200, resulting in large-scale DoS attacks. To mitigate against the threat, users are recommended to disable SLP on systems directly connected to the internet, or alternatively filter traffic on UDP and TCP port 427.
"It is equally important to enforce strong authentication and access controls, allowing only authorized users to access the correct network resources, with access being closely monitored and audited," the researchers said.
Web security company Cloudflare, in an advisory, said it "expects the prevalence of SLP-based DDoS attacks to rise significantly in the coming weeks" as threat actors experiment with the new DDoS amplification vector.
"The collateral impact of SLP reflection/amplification attacks is potentially significant for organizations whose internet-exposed VMWare ESXi servers or other SLP-enabled systems can be abused as DDoS reflectors/amplifiers," Netscout cautioned.
The vulnerability has also attracted the attention of the U.S. Cybersecurity and Infrastructure Security Agency (CISA), which warned of possible attacks abusing SLP to "conduct high amplification factor DoS attacks using spoofed source addresses."
"The Service Location Protocol (SLP, RFC 2608) allows an unauthenticated remote attacker to register arbitrary services," the agency said. "This could allow an attacker to use spoofed UDP traffic to conduct a denial-of-service (DoS) attack with a significant amplification factor."
The findings come as a now-patched two-year-old flaw in VMware's SLP implementation was exploited by actors associated with the ESXiArgs ransomware in widespread attacks earlier this year.
The virtualization services provider said it investigated the flaw and determined that ESXi releases (ESXi 7.x and 8.x lines) are not impacted, and that it only affects older versions that have reached end of general support (EoGS).
"The best option to address CVE-2023-29552 is to upgrade to a supported release line that is not impacted by the vulnerability," Edward Hawkins, VMware's high-profile product incident response manager, said. "In lieu of an upgrade to a supported release, ESXi admins should ensure that their ESXi hosts are not exposed to untrusted networks and also disable SLP."
(The story has been updated after publication to include additional information from CISA and VMware.)