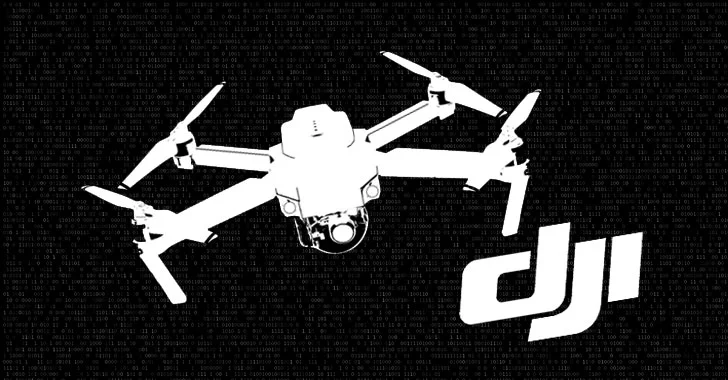 Cybersecurity researchers on Thursday revealed security issues in the Android app developed by Chinese drone-maker Da Jiang Innovations (DJI) that comes with an auto-update mechanism that bypasses Google Play Store and could be used to install malicious applications and transmit sensitive personal information to DJI's servers.
The twin reports, courtesy of cybersecurity firms
Synacktiv
and
GRIMM
, found that
DJI's Go 4
Android app not only asks for extensive permissions and collects personal data (IMSI, IMEI, the serial number of the SIM card), it makes use of anti-debug and encryption techniques to thwart security analysis.
"This mechanism is very similar to command and control servers encountered with malware," Synacktiv said.
"Given the wide permissions required by DJI GO 4 — contacts, microphone, camera, location, storage, change network connectivity — the DJI or Weibo Chinese servers have almost full control over the user's phone."
The Android app has over one million installs via the Google Play Store. But the security vulnerabilities identified in the app don't apply to its iOS version, which is not obfuscated, nor does it have the hidden update feature.
A "Shady" Self-Update Mechanism
GRIMM said the research was undertaken in response to a security audit requested by an unnamed defense and public safety technology vendor that sought to "investigate the privacy implications of DJI drones within the Android DJI GO 4 application."
Reverse engineering the app, Synacktiv said it uncovered the existence of a URL ("hxxps://service-adhoc.dji.com/app/upgrade/public/check") that it uses to download an application update and prompt the user to grant permission to "
Install Unknown Apps
."
"We modified this request to trigger a forced update to an arbitrary application, which prompted the user first for allowing the installation of untrusted applications, then blocking him from using the application until the update was installed," the researchers said.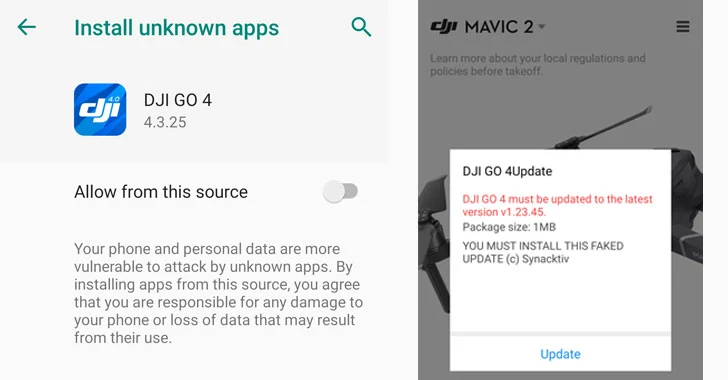 Not only is it a direct violation of Google Play Store guidelines, but the implications of this feature are also enormous. An attacker could compromise the update server to target users with malicious application updates.
Even more concerning, the app continues to run in the background even after it's closed and leverages a Weibo SDK ("com.sina.weibo.sdk") to install an arbitrarily downloaded app, triggering the feature for users who have opted to live stream the drone video feed via Weibo. GRIMM said it didn't find any evidence that it was exploited to target individuals with malicious application installations.
Besides this, the researchers found that the app takes advantage of
MobTech SDK
to hoover metadata about the phone, including screen size, brightness, WLAN address, MAC address, BSSIDs, Bluetooth addresses, IMEI and IMSI numbers, carrier name, SIM serial Number, SD card information, OS language and kernel version, and location information.
DJI Pushes Back Against the Findings
Calling the findings "typical software concerns,"
DJI disputed the research
, stating it contradicts "reports from the U.S.
Department of Homeland
Security (DHS),
Booz Allen Hamilton
and others that have found no evidence of unexpected data transmission connections from DJI's apps designed for government and professional customers."
"There is no evidence they were ever exploited, and they were not used in DJI's flight control systems for government and professional customers," the company said, adding it wasn't able to replicate the behavior of the app restarting on its own.
"In future versions, users will also be able to download the official version from Google Play if it is available in their country. If users do not consent to doing so, their unauthorized (hacked) version of the app will be disabled for safety reasons."
DJI is the world's largest maker of commercial drones and has faced increased scrutiny alongside other Chinese companies over national security concerns, leading the U.S. Department of the Interior to
ground its fleet of DJI drones
earlier this January.
Last May, the DHS had
warned companies
that their data may be at risk if they use commercial drones manufactured in China and that they "contain components that can compromise your data and share your information on a server accessed beyond the company itself."
"This decision makes clear that the U.S. government's concerns about DJI drones, which make up a small portion of the DOI fleet, have little to do with security and are instead part of a politically-motivated agenda to reduce market competition and support domestically produced drone technology, regardless of its merits," the company had said in a
statement
back in January.