In a coordinated International law enforcement operation, Europol today announced to shut down the global organized cybercrime network behind
Imminent Monitor RAT
, yet another hacking tool that allows cybercriminals to gain complete control over a victim's computer remotely.
The operation targeted both buyers and sellers of the
IM-RAT
(Imminent Monitor Remote Access Trojan), which was sold to more than 14,500 buyers and used against tens of thousands of victims across 124 countries.
The infrastructure and front-end sale website of the Imminent Monitor have also been seized as part of this operation, making the Trojan unusable for those who already bought it, as well as unavailable for the new users.
Promoted as a legitimate remote administration framework, the hacking tool was widely used to unauthorisedly access targeted users' computers and steal their login credentials for online banking and other financial accounts.
According to Europol's
press release
, authorities also executed search warrants in June this year against the developer and an employee of IM-RAT in Australia and Belgium, likely with an aim to identify re-sellers and users of the tool.
Moreover, 13 of the most prolific customers of IM-RAT were also arrested in Australia, Colombia, Czechia, the Netherlands, Poland, Spain, Sweden, and the United Kingdom.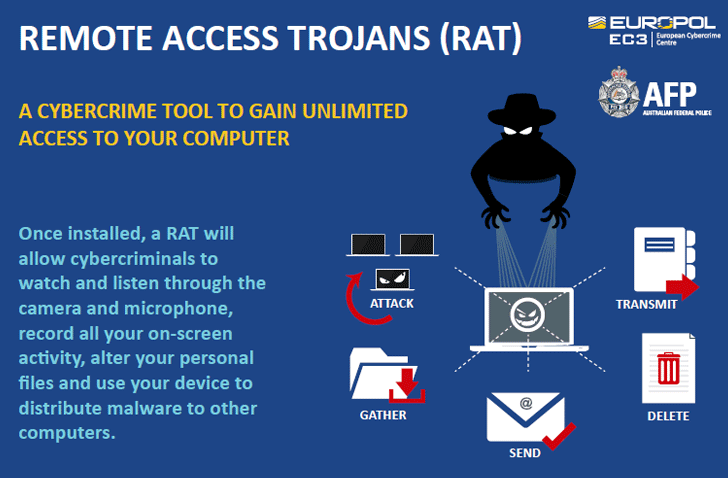 The law enforcement officials have also seized more than 430 devices from the customers and continued forensic analysis of a large number of computers and IT equipment.
Once installed, IM-RAT gives attackers full control over victims' computers, allowing them to carry out various malicious actions, listed below, without the victims' knowledge:
recording keystrokes,
stealing data and passwords from browsers,
spying on victims via their webcams,
download/execute files,
disabling anti-virus and anti-malware software,
terminate running processes,
and perform dozens of other actions.
IM-RAT was considered to be a dangerous threat due to its features, ease of use, and low cost of as little as $25 with lifetime access.
"We now live in a world where, for just US$25, a cybercriminal halfway across the world can, with just a click of the mouse, access your personal details or photographs of loved ones or even spy on you," says Steven Wilson, Head of Europol's European Cybercrime Centre (EC3).
"The global law enforcement cooperation we have seen in this case is integral to tackling criminal groups who develop such tools. It is also important to remember that some basic steps can prevent you from falling victim to such spyware: we continue to urge the public to ensure their operating systems and security software are up to date."
The law enforcement believes that the number of IM-RAT victims falls in tens of thousands, with "investigators having already identified evidence of stolen personal details, passwords, private photographs, video footage, and data."
In a similar joint operation by International law enforcement agencies, the cybercrime network of another remote access Trojan, called
Luminosity Link
, was also dismantled two years ago.
In Luminosity Link case, a 21-year-old developer of the tool was
arrested and sentenced
to 30 months in prison for his role in unlawfully accessing computers, money laundering, and illegal removal of property to prevent its lawful seizure.
To avoid falling victims to such threats, individual users and organizations are recommended to follow some necessary measures, such as keeping all your software up-to-date, configuring a firewall correctly, avoid opening suspicious email attachments or URLs, and always using strong, unique passwords for different online accounts.