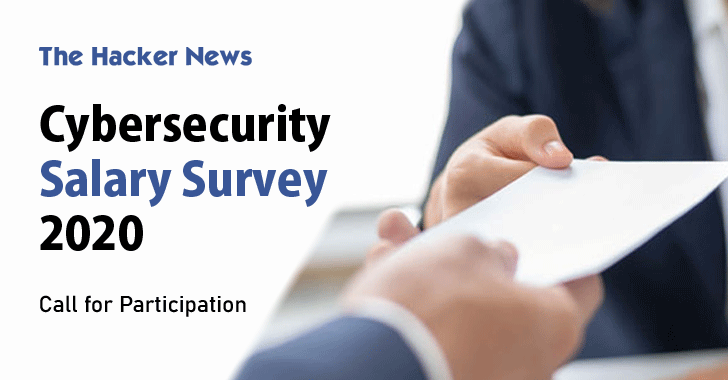 For the first time, The Hacker News launches a comprehensive
Cybersecurity Salary Survey
aimed to provide insights into the payment standards of security positions, enabling security professionals to benchmark their salaries against their peers, as well as get clear insights into the leading roles, certifications, geo- and industry- components that factor a cybersecurity position payroll.
Anyone filling the anonymous salary survey questionnaire will get a free copy of the survey report once it is ready. You can complete the questionnaire
here
.
Volume matters.
The more participants in the survey, the more accurate and actionable the results will be. Three minutes of your time is more than enough.
Why should you take the survey?
If you're in a non-management role (analyst, architect, etc.), you'll know if what you're making is below or above the average.
If you're managing a team, you'll get valuable advice on how to best structure compensation plans.
Want to advance your career? The survey will show you which certifications and experience best translate into higher payment.
Let's look at the benefits you can get from the survey in more detail:
➤
Are you the individual in your organization who's accountable for cybersecurity?
Your title might be CISO, Director of Security, or even CIO. You cannot protect your organization single-handedly. At the end of the day, you're as good as your team, making recruiting and retaining talent an imperative.
Knowing the standard salary expectations, as well as what's considered a competitive salary, is a must. Already have a fully staffed team? Security skills are in high demand, and there are good chances that other organizations approach your team – you'd better make sure that their compensation acts as an incentive to stay.
➤
Are you starting your journey as a security hands-on practitioner?
Know what you are worth, and even more importantly, what can factor into your potential salary scope.
Do you know what the security certifications are that best translate into a higher income? What skills within the cybersecurity domain would you invest in to increase your payroll? This knowledge is essential for the best planning of your career and professional specialization.
➤
Seasoned security professional recalculating your onward route?
If that's the case, you should know the pros and cons of your various alternatives.
What pays off better – becoming one of the sought-after individuals that can reverse engineer malware and conduct a thorough forensic analysis process, or moving to a management position and leading a SOC?
Does your organization's industry make a difference or the size of your company? You should be able to give satisfactory answers to these questions to make an informed decision.
Access the Cybersecurity
Salary Survey here
.