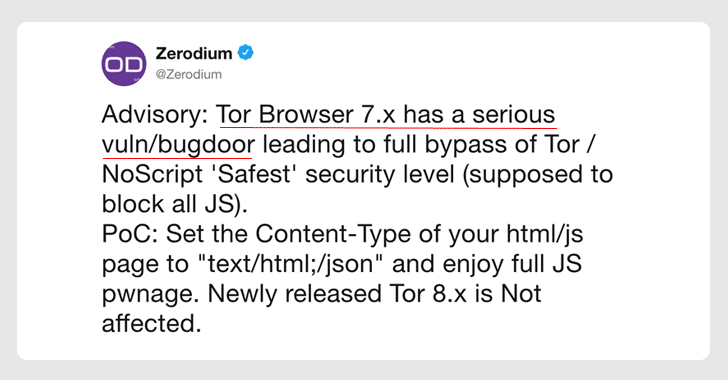 Zerodium, the infamous exploit vendor that earlier this year offered $1 million for submitting a
zero-day exploit for Tor Browser
, today publicly revealed a critical zero-day flaw in the anonymous browsing software that could reveal your identity to the sites you visit.
In a Tweet, Zerodium
shared
a zero-day vulnerability that resides in the NoScript browser plugin comes pre-installed with the Mozilla Firefox bundled in the Tor software.
NoScript is a free browser extension that blocks malicious JavaScript, Java, Flash and other potentially dangerous content on all web pages by default, though users can whitelist sites they trust.
UPCOMING WEBINAR
Zero Trust + Deception: Learn How to Outsmart Attackers!
Discover how Deception can detect advanced threats, stop lateral movement, and enhance your Zero Trust strategy. Join our insightful webinar!
Save My Seat!
According to Zerodium, NoScript "Classic" versions 5.0.4 to 5.1.8.6--with 'Safest' security level enabled--included in Tor Browser 7.5.6 can be bypassed to run any JavaScript file by changing its content-type header to JSON format.
In other words, a website can exploit this vulnerability to execute malicious JavaScript on victims' Tor browsers to effectively identify their real IP address.
It should be noted that the latest version of Tor browser, i.e., Tor 8.0, is not vulnerable to this flaw, as the NoScript plugin designed for the newer version of Firefox ("Quantum") is based upon a different API format.
Therefore, Tor 7.x users are highly recommended to immediately update their browser to the latest Tor 8.0 release.
NoScript has also fixed the zero-day flaw with the release of NoScript "Classic" version
5.1.8.7
.