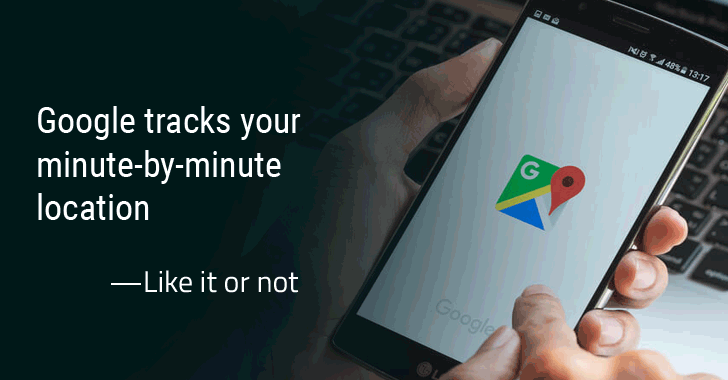 Google tracks you everywhere, even if you explicitly tell it not to.
Every time a service like Google Maps wants to use your location, Google asks your permission to allow access to your location if you want to use it for navigating, but a new investigation shows that the company does track you anyway.
An investigation by Associated Press revealed that many Google services on Android and iPhone devices store records of your location data even when you have paused "Location History" on your mobile devices.
Disabling "
Location History
" in the privacy settings of Google applications should prevent Google from keeping track of your every movement, as its own support page states: "You can turn off Location History at any time. With Location History off, the places you go are no longer stored."
However, AP found that even with Location History turned off, some Google apps automatically store "time-stamped location data" on users without asking them, eventually misleading its claim.
"For example, Google stores a snapshot of where you are when you merely open its Maps app. Automatic daily weather updates on Android phones pinpoint roughly where you are," the AP explains.
"And some searches that have nothing to do with location, like "chocolate chip cookies," or "kids science kits," pinpoint your precise latitude and longitude—accurate to the square foot—and save it to your Google account."
To demonstrate the threat of this Google's practice, the AP created a visual map of the movements of Princeton postdoctoral researcher Gunes Acar, who carried an Android smartphone with 'Location History' switched off to prevent location data collection.
However, the researchers discovered that the map includes records of Dr. Acar's train commute on two trips to New York and visits to the High Line park, Chelsea Market, Hell's Kitchen, Central Park and Harlem.
To protect the privacy of Dr. Acar, the publication did not plot the most telling and frequent marker on the map which includes Acar's home address.
According to the researchers, this privacy issue affects around two billion Android users and hundreds of millions of iPhone users across the world who rely on Google for maps or search.
Google Admits Tracking Users' Location
In response to the APs investigation, Googled issued the following statement:
"There are a number of different ways that Google may use location to improve people's experience, including Location History, Web, and App Activity, and through device-level Location Services. We provide clear descriptions of these tools, and robust controls so people can turn them on or off, and delete their histories at any time."
Well, technically Google made it entirely clear, but Jonathan Mayer, a Princeton researcher and former chief technologist for the FCC's enforcement bureau, argued:
"If you're going to allow users to turn off something called 'Location History,' then all the places where you maintain location history should be turned off. That seems like a pretty straightforward position to have."
Here's How to Stop Google From Tracking Your Location
To stop Google from saving time-stamped location markers, users need to turn off another setting, called "Web and App Activity"—a setting which is enabled by default and stores a variety of information from Google apps and sites to your Google account.
Once disabled, it will not only stop Google from storing location markers but also prevents the company from storing information generated by searches and other activities.
For Any device:
Open your web browser, go to myactivity.google.com, select "Activity Controls" from the upper left drop-down menu, and now turn off both "Web & App Activity" and "Location History."
For Android Devices:
Head on straight to the "Security & location" setting, scroll down to "Privacy", and tap "Location." Now you can toggle it off for the entire device.
You can also use "App-level permissions" to disable access to various apps.
For iOS Devices:
If you use Google Maps, Go to Settings → Privacy Location Services and adjust your location setting to 'While Using' the app. This will prevent the app from accessing your location when it is not active.